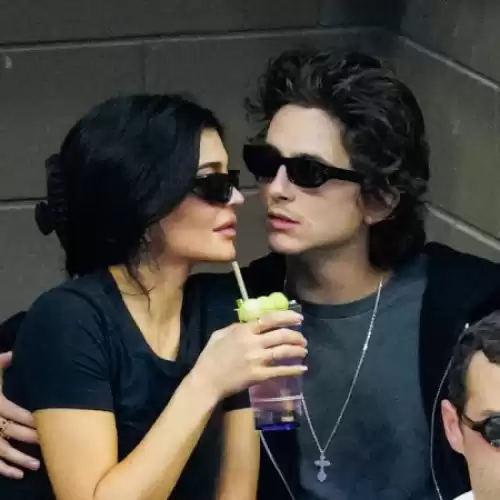 Timothee Chalamet and Kylie Jenner getting serious after packing on PDAs at US Open
Timothée Chalamet and Kylie Jenner's romance is getting serious after they were spotted showing affection at the US Open.
In a surprising turn of events, it seems that Timothée Chalamet and Kylie Jenner are taking their relationship to the next level. The couple recently made headlines when they were spotted engaging in public displays of affection (PDAs) at the US Open. This public outing has sparked rumors that their romance is becoming more serious.

During the men's singles championship match between Novak Djokovic and Daniil Medvedev in New York City, Timothée Chalamet and Kylie Jenner were seen getting cozy in the crowd. They were captured laughing, sipping drinks, and sharing intimate moments. Kylie even wrapped her arm around Timothée's shoulders, and they were photographed leaning in for a kiss. A video shared on social media showed Kylie running her fingers through Timothée's hair, further fueling speculation about their relationship.

The couple enjoyed their time at the US Open as guests in the Cadillac suite at Arthur Ashe Stadium. They were among other notable celebrities, including Jerry Seinfeld, Laverne Cox, Chace Crawford, and Ebon Moss-Bachrach. Despite the attention they received for their affectionate behavior, Timothée and Kylie opted for a low-key attire. Timothée wore a black hoodie, sunglasses, and a cap, while Kylie also dressed in dark clothes and shades.

This public display of affection at the US Open came just days after Timothée and Kylie made their relationship public at Beyoncé's Renaissance World Tour concert in California. They were spotted kissing in a VIP box, surrounded by other stars like Tom Holland, Zendaya, Justin and Hailey Bieber, Kendall Jenner, and Kim Kardashian. Notably, rapper Travis Scott, Kylie's ex and father of her children, was also present at the concert.

Prior to these public outings, Timothée and Kylie were seen leaving Chalamet's Beverly Hills mansion together in Kylie's Range Rover. This new romance marks Kylie's first relationship since her split from Travis Scott in late 2022. The couple has been linked since April, and according to a source, Kylie is enjoying her time with Timothée and is excited to see where their relationship goes. It's a refreshing change for her, as this relationship feels different from her past experiences and brings a sense of fun and excitement.

Overall, it seems that Timothée Chalamet and Kylie Jenner are embarking on a serious relationship. Their public displays of affection at the US Open and other events indicate that their connection is growing stronger. Fans and onlookers eagerly await further developments in this high-profile romance.
Share With Others