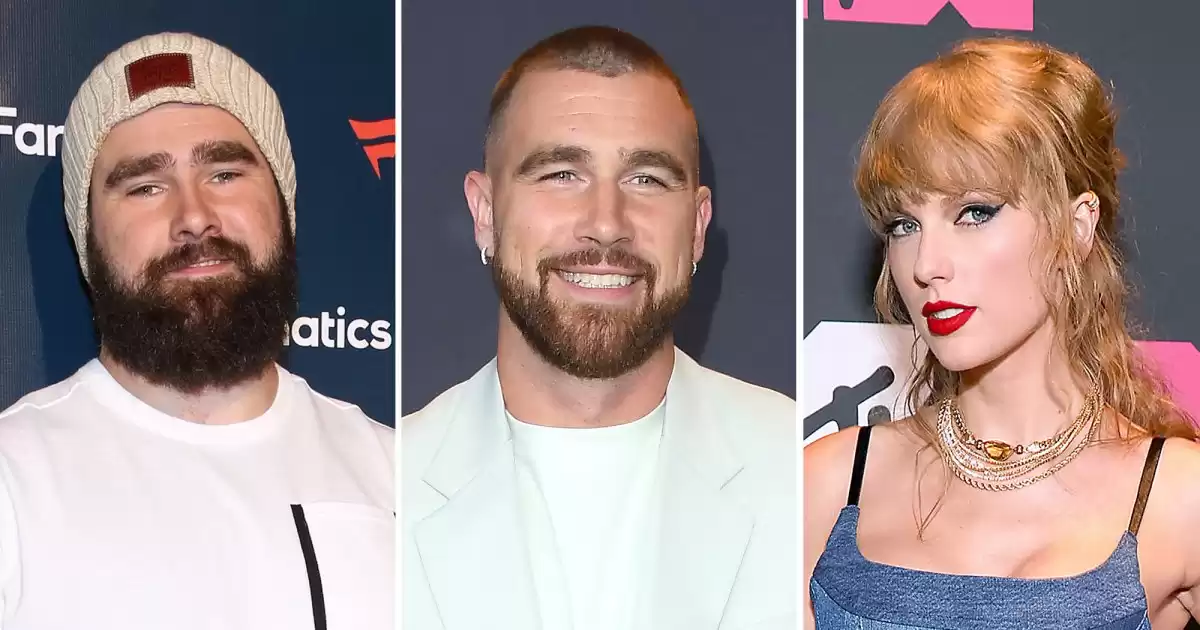 Jason Kelce: Travis Kelce and Taylor Swift Situation Unknown
Jason Kelce, brother of NFL player Travis Kelce, refuses to comment on rumors of Travis dating Taylor Swift.
During a postgame interview with his teammate Jalen Hurts after the Philadelphia Eagles' win over the Minnesota Vikings, Jason, 35, responded with laughter when NFL analyst Tony Gonzalez brought up the rumors surrounding his brother Travis' love life. Gonzalez mentioned that his 15-year-old daughter is a big fan of a certain pop star and asked Jason to comment on the rumors involving Travis. Jason acknowledged his awareness of the rumors but playfully stated that he couldn't comment on them.

Jason continued to keep the panel and fans guessing by saying, "Ever since Travis' reality show, Catching Kelce, everyone has been fascinated with Travis' love life. I'm not really sure what's going on there. I know Travis is enjoying himself. We'll see what happens with whoever he ends up with."

Reports emerged earlier this month suggesting that Travis, 33, and Swift were spending time together following her breakup with Joe Alwyn and her fling with Matty Healy from The 1975. Travis had previously mentioned that he tried to give Swift his phone number when he attended her concert in Kansas City during The Eras Tour this summer.

During an episode of the "New Heights" podcast, which he cohosts with Jason, Travis expressed his disappointment that Swift doesn't talk before or after her shows, as she needs to save her voice for the 44 songs she performs. He jokingly mentioned feeling a bit hurt that he didn't have the opportunity to give her one of the bracelets he had made for her.

Travis explained to his brother that it's a tradition to exchange friendship bracelets at Swift's concerts and shared his desire to give her one with his phone number on it. Unfortunately, their paths didn't cross that night. Travis humorously remarked that Swift probably hadn't "gotten over" the Eagles' loss to his team, the Kansas City Chiefs, in Super Bowl LVII in February. Swift, a native of Pennsylvania, is a loyal Eagles fan and even references the team in her song "Gold Rush" from the album Evermore.

The true nature of Travis and Swift's relationship remains unclear, but sports fans and Swifties alike wasted no time in expressing their opinions on the rumored romance. Fellow NFL player Josh Allen even offered some advice to Travis on pursuing a relationship with the pop star. In an interview with FanDuel TV last month, Allen jokingly suggested that Travis should try something other than friendship bracelets and expressed his surprise at anyone turning down Travis Kelce.

In conclusion, the speculation surrounding Travis Kelce's love life continues to captivate both sports enthusiasts and Taylor Swift fans. While the true status of his relationship with Swift remains uncertain, Travis' attempts to connect with her during her concert and the playful banter between him and his brother Jason have only added fuel to the rumor mill. Fans eagerly await any updates on this potential celebrity romance.
Share With Others