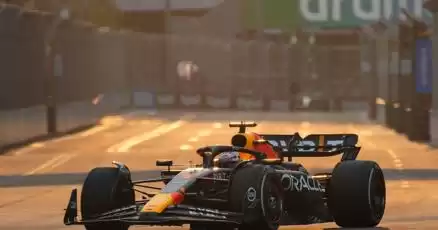 F1 drivers geared up for Singapore's heat and humidity
Formula One drivers are preparing to race in the Singapore Grand Prix, known for its heat and humidity, which causes drivers to lose significant weight. Drivers have drink tubes built into their helmets, but in Singapore, the drinks can reach the temperature of hot tea.
The Singapore Grand Prix is notorious for its sweltering heat and high humidity, which poses a challenge for Formula One drivers. The extreme conditions cause drivers to sweat profusely and lose a significant amount of weight during the race. To combat dehydration, drivers have drink tubes built into their helmets that pump fluids from a bag in the cockpit. However, in Singapore, the drinks can reach temperatures as high as hot tea.

Max Verstappen, the current runaway standings leader, advised Liam Lawson, a driver from AlphaTauri racing in Singapore for the first time, to hydrate well. Verstappen emphasized the discomfort of driving in the heat and the need to adapt to excessive sweating. He acknowledged that the sweat cannot escape the driver's suit, so it's crucial to get comfortable with the situation.

Lance Stroll from Aston Martin expressed that he gets "pretty thirsty" towards the end of the race and opts for drinking tea. However, not all drivers follow this approach. Kevin Magnussen from Haas, who has competed in Singapore six times, revealed that drinking too much tea gives him a stomach ache. He explained that the temperature rises rapidly, making the tea too hot to consume. Moreover, swallowing liquids while driving and being thrown around in the car is challenging, and drivers need to be cautious not to drink excessively to avoid stomach discomfort.

While Singapore may not be the hottest or most humid track in Formula One (Miami and Bahrain are contenders for that title), its twisty layout through the city streets poses additional challenges. Unlike tracks with longer straight sections where air flows fast and cools the drivers, Singapore's layout offers less time at high speeds. George Russell from Mercedes mentioned that the track's slightly shorter layout this year, which replaces four corners with a straight section, could make drivers more comfortable.

Logan Sargeant, an American driver competing in Singapore for the first time, admitted that he finds it difficult to drink fluids while driving. He relies on filling up before the race and hopes it will be enough to sustain him.

In terms of practice sessions, Ferrari showcased impressive performance, setting the pace on both occasions. Charles Leclerc topped the first session, followed closely by his teammate Carlos Sainz Jr. and Max Verstappen. In the second session, Sainz outperformed Leclerc by a small margin, with George Russell securing the third spot. Verstappen and his teammate Sergio Perez struggled with rear grip issues and finished eighth and ninth, respectively. The two Red Bull drivers have dominated this season's races so far, but the Ferraris showed promising speed in Singapore.

Verstappen aims to extend his record run of ten consecutive victories in Singapore, and Red Bull has the opportunity to secure the constructors' championship this weekend. However, there is still controversy surrounding the 2008 title race. Felipe Massa believes he was robbed of the championship that year due to a race-fixing scandal involving the Renault team. Massa plans to take legal action following an interview with former F1 boss Bernie Ecclestone, who claimed that he knew about the deliberate crash before Hamilton was awarded the title. Massa's legal team has sent notices to key figures and teams involved in the scandal to preserve any related documents.

Regarding driver lineups for 2024, Alfa Romeo confirmed that Valtteri Bottas and Zhou Guanyu will remain with the team. Only three F1 seats are currently open for the 2024 season. There is speculation that Logan Sargeant may continue alongside Alex Albon at Williams, but no confirmation has been made. AlphaTauri has yet to announce whether Yuki Tsunoda and Daniel Ricciardo will stay or if Liam Lawson will become a regular driver. Lawson expressed gratitude for the opportunity to drive in Formula One and is determined to make the most of it.
Share With Others