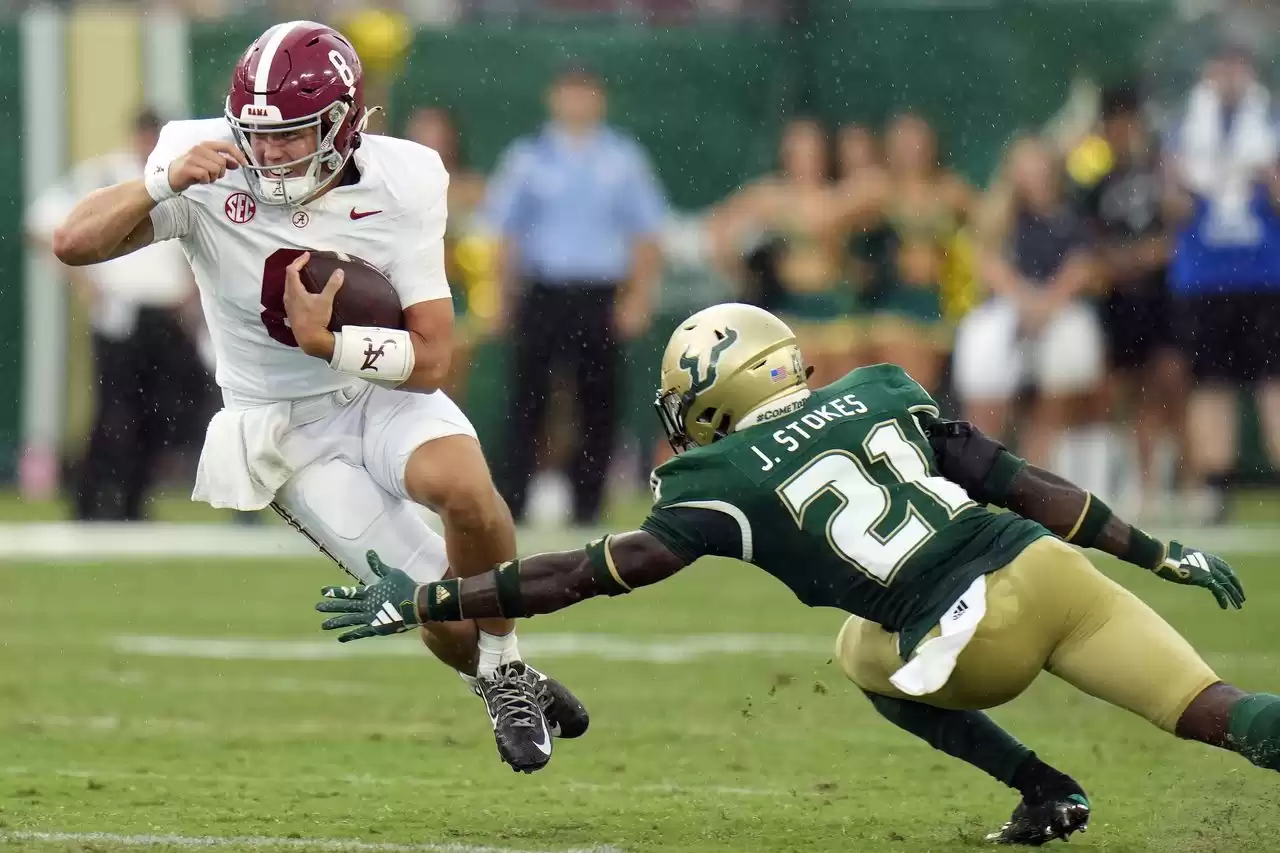 3 Takeaways from Alabama Football's Ugly 17-3 Road Effort against USF
Alabama football struggles to dominate South Florida in an ugly game, raising concerns about the team's performance and potential.
Alabama football faced off against South Florida in a game that ended with a final score of 17-3. This particular game was not one of the team's finest moments under the leadership of head coach Nick Saban.

Before the University of Alabama (UA) shifts its focus to SEC play and prepares to face Ole Miss at Bryant-Denny Stadium, let's take a closer look at three key takeaways from Saturday's game.

On paper, Alabama was clearly the superior team. South Florida had only won a single game last season and was still adjusting to a new head coach, Alex Golesh. The Crimson Tide should have easily dominated the Bulls, but that wasn't the case.

The game itself was rather unimpressive. Both teams struggled to score touchdowns until the second half. However, Alabama's performance was particularly lackluster. They faced numerous challenges, including sacks on four-man rushes, untimely penalties, poor tackling against USF quarterback Byrum Brown, and a variety of other issues. Overall, they did not resemble a team capable of meeting the expectations of their fans.

Out of the two units, the defense performed slightly better than the offense. They were able to pressure the quarterback and make crucial stops. Surprisingly, the standout player of the game was punter James Burnip. For a team ranked number one overall in terms of talent, this was not a positive sign.

Jalen Milroe started as Alabama's quarterback in the first two games of the season, but Tyler Buchner took over for the USF game. Unfortunately, the offense did not show much improvement. By the time the game was halted due to a lightning delay in the second quarter, Buchner had only completed four out of ten passes for a meager 25 yards. He frequently threw inaccurate passes, missing his receivers.

In Buchner's defense, he faced immense pressure early on, similar to Milroe's experience against Texas. Buchner, who is not as mobile as Milroe, struggled to escape the opposing defense's relentless pursuit. Eventually, he was replaced by Ty Simpson in the second quarter. However, Simpson also faced pressure and was sacked during his first series as quarterback.

Despite the difficulties, Simpson managed to make an impact by completing a pass to CJ Dippre for a 45-yard gain, leading to Alabama's first touchdown by Roydell Williams.

Overall, the performance of the quarterbacks did not instill confidence moving forward. As SEC play approaches, none of the three quarterbacks have clearly separated themselves as the definitive starter.

Alabama football appeared sloppy at times during their game against Texas, but the matchup against USF was seen as an opportunity to bounce back and showcase improvement. Unfortunately, from the very beginning, the Crimson Tide struggled to find their rhythm.

Mistakes were made across the board. Caleb Downs failed to make a proper tackle on USF's Nay'Quan Wright, allowing him to gain significant yardage. Kool-Aid McKinstry attempted to redirect his teammates away from a rolling ball but inadvertently touched it himself. USF took advantage of the situation and secured an early 3-0 lead with a 44-yard field goal by John Cannon.

To make matters worse, Alabama's Terrion Arnold returned the ensuing kickoff for a touchdown, but it was nullified due to a holding penalty. This costly penalty forced the team to start their drive from their own 11-yard line, resulting in no points.

With Buchner's inaccurate passes, untimely penalties, and subpar blocking, the overall sloppiness of Alabama's performance was a major concern.

In conclusion, Alabama football's game against South Florida was far from impressive. Despite being the more talented team, they struggled to assert their dominance. The offense, led by multiple quarterbacks, failed to inspire confidence, while the defense showed some improvement. However, overall sloppiness and a lack of execution plagued the Crimson Tide throughout the game. As they enter SEC play, they must address these issues to meet the high expectations set by their fans.
Share With Others