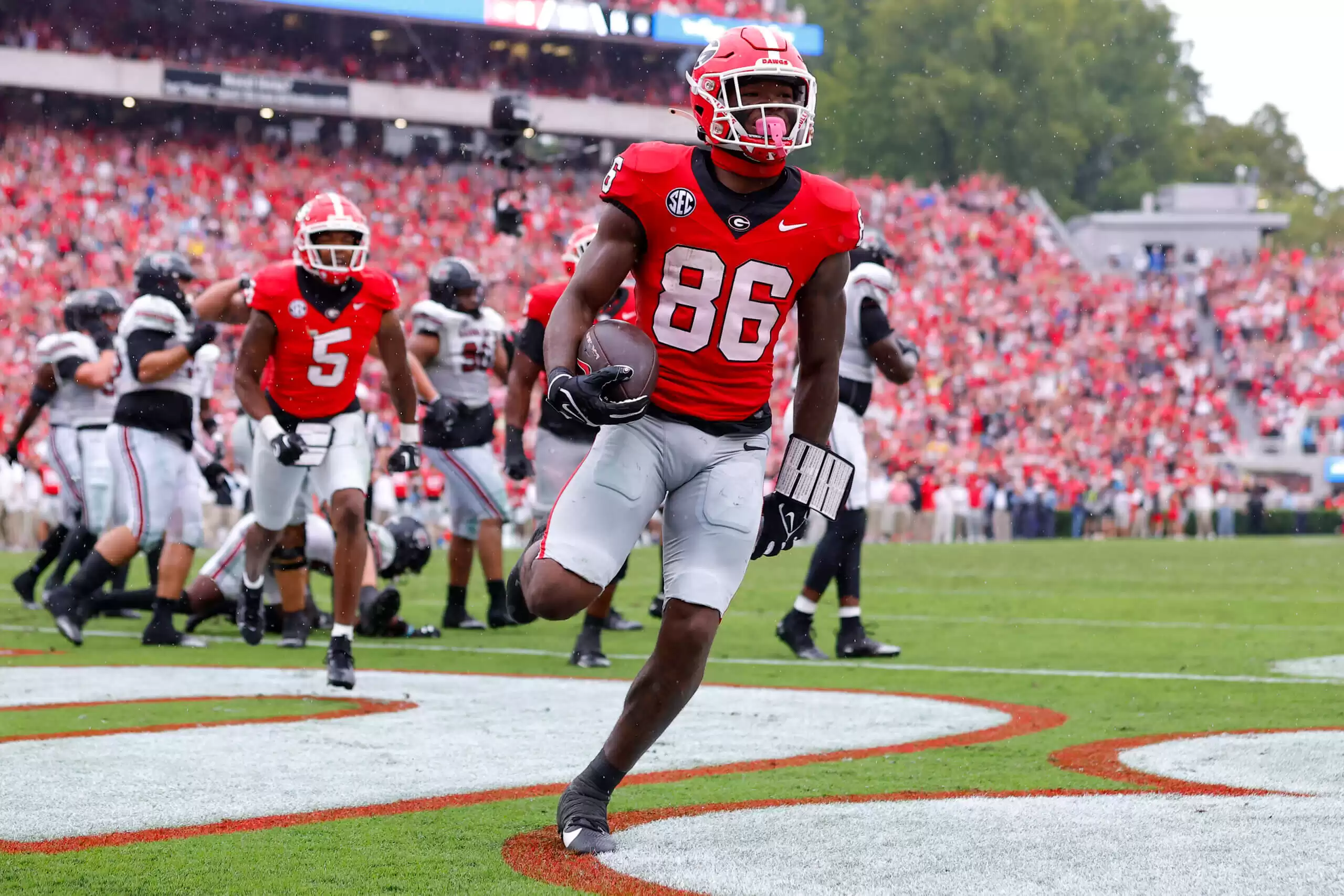 Georgia Ranked No. 1 but Looks Like Average Team
Georgia Bulldogs' performance has been less than impressive, with slow starts and average first halves against inferior opponents. There are concerns about their ability to dominate and be a championship team.
The anticipation is building as the first College Football Playoff poll is set to be released on Halloween night. It's fitting for Georgia, as the holiday's eerie traditions suggest a blurred line between the living and the dead. And right now, it's unclear if the Bulldogs are truly the nation's top team or just a group of players wearing cheap masks.

But for now, it doesn't matter, thanks to the lenient schedule. However, the Bulldogs' performance has been lackluster. They're not as impressive as a 3-0 team like Missouri or Duke. In their last three games, they've started slowly against weaker opponents they were expected to dominate. Their SEC opener against South Carolina was particularly disappointing, with a kickoff out of bounds, a sack, missed opportunities in the red zone, and a 14-3 deficit at halftime.

Although they managed to win 24-14, it's not up to par for a program that has won consecutive national championships. This has left fans disappointed and even angry, as evidenced by the boos at Sanford Stadium. Coach Kirby Smart initially tried to make light of the slow starts, but he eventually acknowledged the team's shortcomings.

The Bulldogs struggled against UT Martin, failing to score on their first two drives. This should have been a wake-up call for their first SEC matchup against South Carolina, but it wasn't. There were physical and mental errors on both sides of the ball, missed tackles, and defensive lapses. The Gamecocks seemed to control the game in the first half.

To their credit, the Georgia players remained calm, showed resilience, and had a strong offensive performance in the second half. The defense also tightened up and shut out South Carolina. However, the Bulldogs are playing with fire. It won't be easy to bounce back quickly against tougher opponents, whenever they actually face them. Quarterback Carson Beck, offensive coordinator Mike Bobo, and the defense all have something to prove.

Will these struggles ultimately matter? It's hard to say. South Carolina coach Shane Beamer praised the Bulldogs for their response to adversity, suggesting they have the traits of a championship team. But Smart knows they need to figure out why they start slowly.

The schedule is forgiving, with upcoming games against Auburn, Florida, Ole Miss, and Tennessee. While these teams pose challenges, Georgia will likely be favored in every regular-season game.

This season may not turn out as poorly as 2008, but it's worth remembering that year. That was the last time Georgia was ranked No. 1 in the preseason polls. They had underwhelming performances in their first two games and eventually suffered heavy defeats against Alabama, Florida, and Georgia Tech.

This year's team probably won't experience such a downfall, but there are still concerns. Will they only perform well when they have to, or are they truly a great team? Smart acknowledges that there is room for improvement and that they need to start better. The world is watching, waiting for answers.

For now, the Bulldogs look average at best. But perhaps things will change as the season progresses.
Share With Others