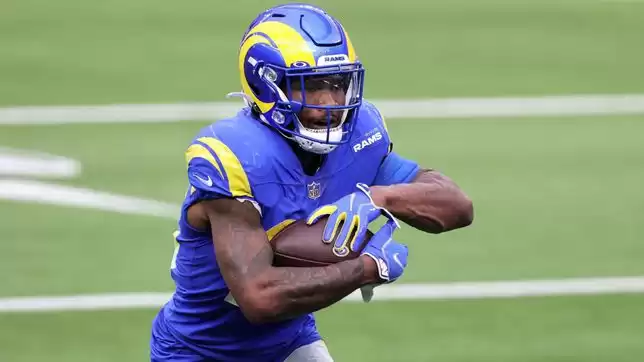 "Los Angeles Rams Rumored Trade: Cam Akers - Insights on Possible Reasons"
Los Angeles Rams running back Cam Akers is reportedly on the outs with head coach Sean McVay, leading to trade rumors.
The situation between the Los Angeles Rams and star running back Cam Akers is causing quite a stir in the NFL. Roster management in the league is known to be cutthroat, but the current state of affairs is perplexing to say the least.

Reports indicate that there is a rift between Rams head coach Sean McVay and Akers, although the exact details remain unclear. What we do know is that Akers was unexpectedly made inactive for Week 2's game against the San Francisco 49ers. This decision was made by the coach, despite Akers being healthy and ready to play. This has led to speculation that the Rams have reached out to other teams to explore the possibility of a trade. As for Akers himself, he is just as confused as everyone else about his status with the team.

The relationship between Akers and McVay has been rocky, particularly over the past year. Speculation began during the 2022-23 season when Akers received only three carries in Week 1. Although he saw more playing time in the following games, he was made inactive in Weeks 6 and 8, sparking rumors of a potential trade. However, no trade materialized, and Akers went on to deliver impressive performances in Week 9 and beyond. This led to the belief that he would continue as the team's starting running back in the upcoming season. But that belief was shattered.

So why would the Rams want to part ways with a player who played a crucial role in their recent Super Bowl victory? While we can only speculate at this point, it seems to come down to numbers. Despite Akers tying for the NFL lead in carries after Week 1, he was second to teammate Kyren Williams in both carries and snaps during close games. Most of Akers' carries came in the fourth quarter when the outcome was already decided. It appears that Williams will now take on the primary rushing duties in Week 2 with Akers sidelined.

It's safe to assume that Akers will be traded, although the details are still unknown. This is not the first time he has been linked to a potential move away from LA. However, the fact that this is his second time on the trade block may limit the Rams' options in terms of what they can get in return. Nevertheless, it seems clear that Akers' time with the Rams has reached its end. The question now is whether he can regain his form once he finds a new team.
Share With Others