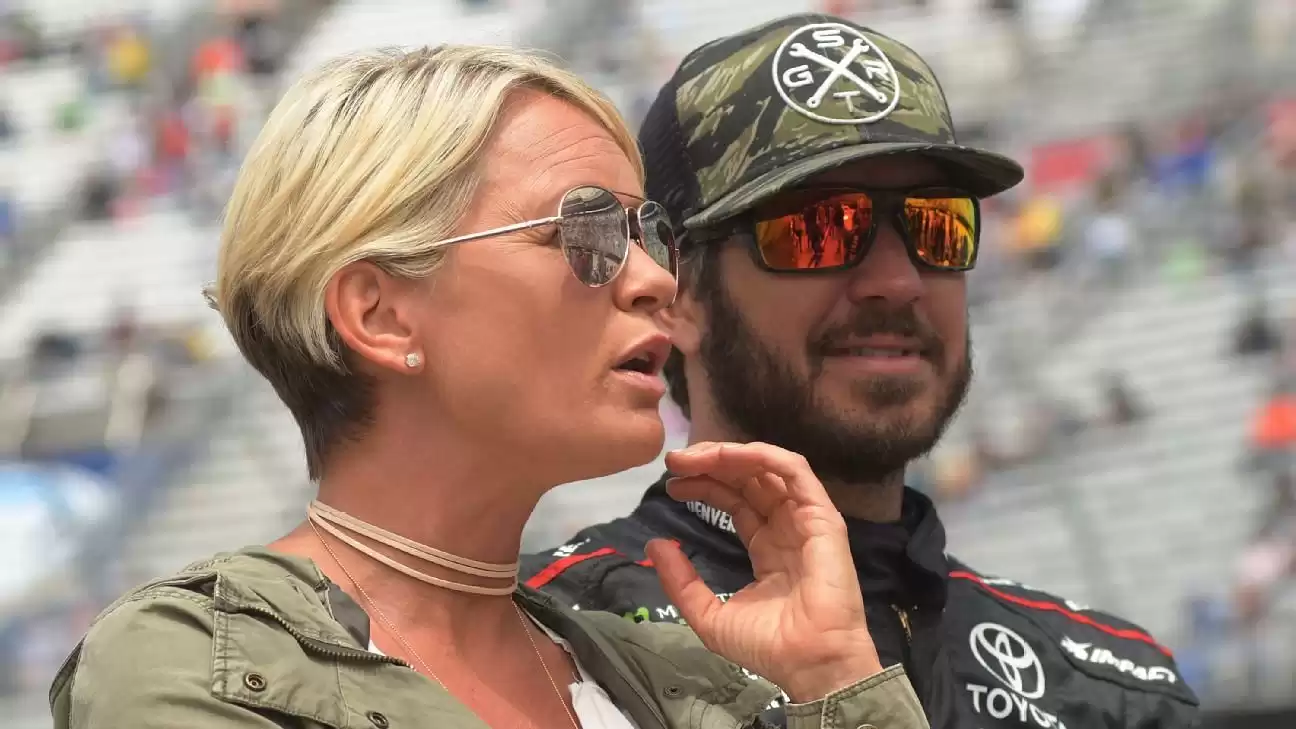 Martin Truex Jr. Ex-Girlfriend Sherry Pollex Passes Away After Cancer Battle for 9 Years
NASCAR driver Martin Truex Jr.'s former partner Sherry Pollex, known for her battle with ovarian cancer, has passed away.
In a heartbreaking turn of events, NASCAR Cup Series driver Martin Truex Jr.'s former long-time partner, Sherry Pollex, passed away on Sunday morning. The news was confirmed by a statement released by the Pollex family, leaving the racing world in mourning.

Sherry Pollex was well-known in the stock car racing community due to her connection with Truex Jr. Besides being his partner, she was also a driving force behind The Martin Truex Jr. Foundation, which focused on supporting ovarian and child cancer patients. Pollex had been battling ovarian cancer since 2014, with a third resurgence of the disease occurring in 2020.

Despite their separation in January of this year, Pollex and Truex Jr. continued to raise awareness and provide assistance to under-funded cancer initiatives. The Martin Truex Jr. Foundation organized a fundraising event called 'Catwalk for a Cause' just last week. NASCAR drivers walked alongside cancer patients, and although Pollex couldn't attend, she received a standing ovation from the crowd for her unwavering commitment to cancer patients and survivors.

The passing of Sherry Pollex was confirmed by notable NASCAR journalist and FOX Sports analyst Bob Pockrass, who shared a statement from the Pollex family. The statement expressed the family's deep sorrow and mentioned that Pollex is no longer suffering and has found peace.

Pollex's battle against cancer and her association with NASCAR will forever be remembered. The sudden loss of Truex Jr.'s former partner has deeply affected the racing community, with an outpouring of condolences from reporters, analysts, and fellow drivers.

People took to social media to express their grief and admiration for Pollex. One user wrote, "She inspired so many... Thinking of her and her family." Another user tweeted, "Sherry Pollex, a warrior who battled ovarian cancer for over 9 years, has died at the age of 44. She championed cancer research and treatment for children and inspired us all to be better." Many others shared their personal experiences and memories of Pollex, highlighting her kindness and positivity.

Despite the couple's separation earlier this year, the stock car racing community embraced Sherry Pollex as one of their own. Her impact on the sport and her dedication to fighting cancer will continue to be felt, even after her passing.
Share With Others