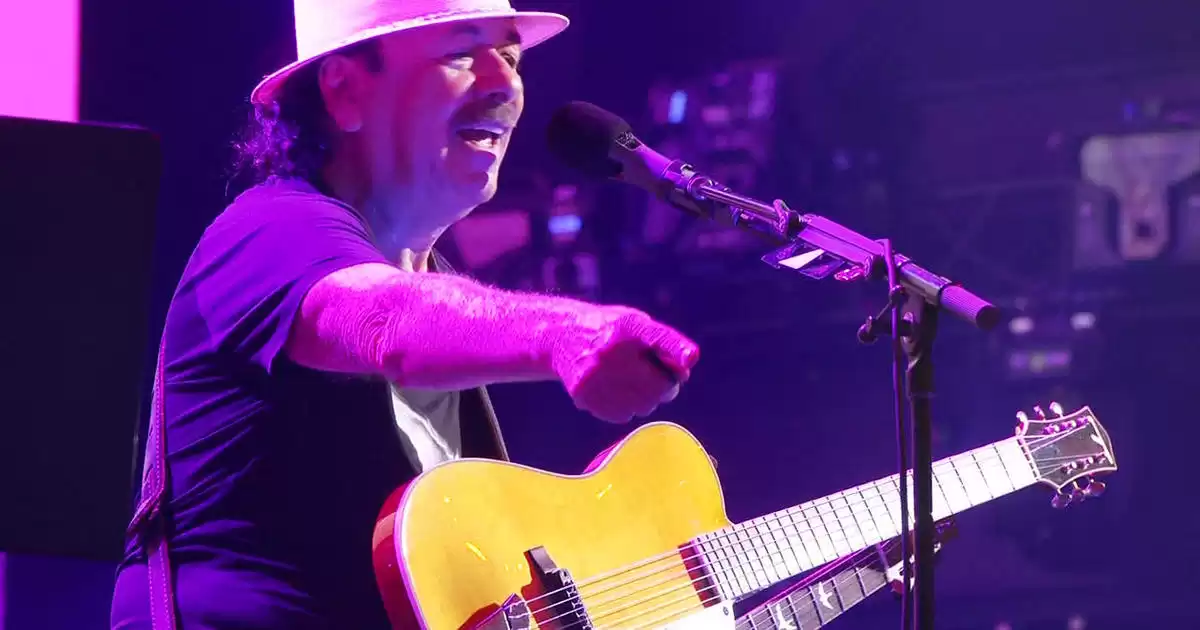 The Alchemy of Carlos Santana
Carlos Santana discusses his lifelong love for music, his career, and his new documentary, "Carlos," which explores his life and influences.
Carlos Santana, the legendary guitarist, views music as a form of magic, a transformative power that allows him to seduce his guitar rather than tame it. He compares the experience of playing a note to receiving a passionate French kiss from the most beautiful woman in the room. Santana has been captivating audiences for decades, sustaining a long and successful career that mirrors his ability to sustain a note. His talent was evident at the age of 22 when he mesmerized fans at Woodstock, announcing himself as a guitar god of the '60s.

During that era, Santana recalls that while people were listening to Bob Dylan records and smoking weed, he was already making waves with his music. Even at the age of 52, Santana continued to make an impact. His 1999 album "Supernatural" tied Michael Jackson for the most Grammys won in a single night. The songs "Smooth" and "Maria Maria" became chart-toppers and solidified Santana's status as a musical icon.

Santana's life is the stuff of movies, and Hollywood has shown interest in telling his story. However, Santana has always been adamant about owning his life and not allowing others to borrow it for their own purposes. He values his autonomy and wants to share his story on his own terms. That's why when executive producers Ron Howard and Brian Grazer approached him with the opportunity to collaborate on a documentary about his life, Santana agreed. The result is "Carlos," a film that offers a glimpse into his journey.

The documentary begins where Santana's musical journey started, in Mexico. As a young boy, he played the violin in his father's mariachi band before switching to the guitar. By the age of 13, he was already performing in Tijuana's backstreet nightclubs, often surrounded by strippers. Santana fondly recalls those early experiences, likening them to discovering the excitement of Cirque du Soleil. However, his childhood innocence was shattered when he became the victim of sexual abuse. In 2000, Santana bravely shared his story with Rolling Stone, hoping to help others who had experienced similar trauma. Opening up about his past allowed him to let go of anger and find healing.

In addition to the emotional healing, Santana also needed to cleanse himself of the destructive habits that often accompany the rock 'n' roll lifestyle. Drugs and alcohol were taking a toll on his music, so he turned to meditation and spirituality. Inspired by an Indian guru, Santana embraced a spiritual path that replaced the highs he once sought through substance abuse. He became a disciple, dressing in white and cutting his hair. Through this transformation, Santana found a higher power in God.

While Santana is known for spreading messages of peace and unity, he faced criticism after making comments that seemed to target the trans and non-binary community during a concert in New Jersey. Santana clarified that he did not intend to offend anyone and emphasized that he is not against anyone. Having experienced discrimination as a Mexican child, he understands the pain it causes and wants everyone to be happy and have fun.

When Santana performs, his focus is on healing and bringing people together. He has been performing in Las Vegas for the past 11 years, accompanied by veteran drummer Cindy Blackman, who also happens to be his wife. Playing together has brought a renewed sense of purpose and energy to Santana's life. He is not interested in being a relic of the past but wants to continue creating and evolving as an artist. At the age of 76, Santana hopes to remain relevant and make a lasting impact on the music industry.

Carlos Santana's journey has been shaped by his times, but he has also played a significant role in shaping the world around him. His music has touched the lives of many, and his story serves as an inspiration to those who have faced adversity. Santana's ability to find healing and transcendence through his art is a testament to the power of music and the human spirit. As he continues to make music and share his story, Carlos Santana reminds us of the transformative power of creativity and the importance of staying true to oneself. For more information on Santana and his incredible journey, visit the official website.
Share With Others