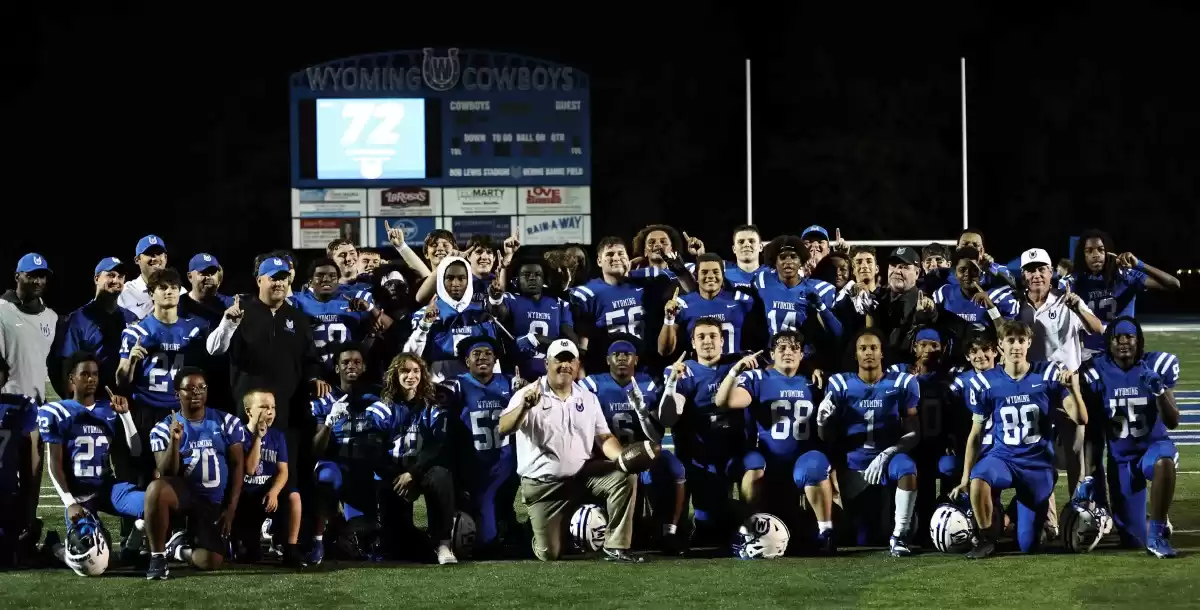 Wyoming Football Sets Record: 72 Straight Regular-Season Wins
Wyoming High School football team secures record-breaking 72nd consecutive regular-season victory in Ohio state football history.
Wyoming High School's football team has experienced a remarkable turnaround since their disappointing 2015 season. Head coach Aaron Hancock and his staff made significant changes to guide the team back to success, and the results have been extraordinary. The Cowboys secured an Ohio High School Athletic Association Division IV State Championship in 2018 and have remained unbeaten in regular season games ever since.

On Friday night, Wyoming made history by securing their 72nd consecutive regular-season victory, surpassing the previous record held by the Moeller Crusaders for nearly four decades. The Cowboys shut out Taylor with a dominant 38-0 victory at Bob Lewis Stadium, solidifying their place among the top programs in Ohio state football history.

Coach Hancock expressed his pride in the team's accomplishment, stating, "What a great accomplishment this is for this program. I couldn't be prouder to be the head coach here at Wyoming High School. Just a great accomplishment." He also credited the players and coaching staff for their dedication and teamwork throughout the journey.

One standout player for Wyoming is D.J. Gray, who has shown incredible versatility and skill on both offense and defense. Gray's ability to excel in various roles, including receiving, running, and playing as a defensive back, has made him a crucial playmaker for the team.

Another player to watch is sophomore Jackson Hamilton, who has consistently produced impressive performances throughout the season. Despite the pressure of filling big shoes, Hamilton has proven himself as a reliable and talented running back.

For Taylor, quarterback Jackson McGowan has displayed his big-play ability and strong arm throughout the season. Despite a tough night against Wyoming, McGowan has accumulated impressive passing yards and touchdowns, indicating better days ahead for the senior signal caller.

In the game against Wyoming, Taylor had an opportunity to bounce back and tie the score after a series of big plays. However, a crucial interception by Wyoming's Billy Lyons halted their momentum and allowed Wyoming to dominate the rest of the game.

With their place in OHSAA history secured, Wyoming will now focus on extending their historic run as they face Reading in their upcoming game. Taylor, on the other hand, will look to bounce back against Mariemont in hopes of turning their season around.

Overall, Wyoming's football program has experienced a remarkable transformation, and their record-breaking winning streak is a testament to the hard work and dedication of the players and coaching staff.
Share With Others