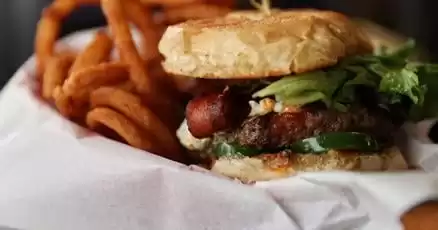 Best Cheeseburgers in Colorado: 9 Delicious Options to Celebrate National Cheeseburger Day
Discover the best burger joints in Colorado, from James Ranch Grill to The Owl Cigar Store, and experience their unique flavors.
Colorado is known for its delicious burgers, and we've compiled a list of the best ones you need to try. We've scoured the state, from cities to mountains, to find these hidden gems that will satisfy your burger cravings like never before.

First up is James Ranch Grill, located on a family ranch in Durango. The cows that feed on the adjacent pastures provide the beef for these burgers, and the cheese is also produced right here on the ranch. The freshness and quality of the ingredients shine through in every bite.

Next, we have Maggie's Kitchen in Ouray. This joint is covered in graffiti, a testament to the countless satisfied customers who have discovered this hidden gem. The hand-written burger list on the wall is extensive, offering a variety of options to suit every taste. These burgers are piled high with toppings, just like the surrounding mountains.

Don't let the fact that Powerstop is a gas station fool you. Located in Gunnison, this place serves up locally-sourced beef and freshly-baked buns from a nearby bakery. Skiers and snowboarders on their way to Crested Butte can't resist stopping here for a beefy, cheesy dream.

Bud's Cafe & Bar in Sedalia is known for its time-honored burger. Steamed to perfection, this burger has a secret recipe that remains a mystery. Pair it with a bag of Lay's chips, and you've got a simple and satisfying meal.

If you find yourself in Denver, make sure to visit My Brother's Bar, Denver's oldest bar dating back to 1873. Their burgers are wrapped in paper and served with a caddy of fresh tomatoes, onions, and pickles. The Johnny Burger, topped with American and Swiss cheeses, jalapeno cream cheese, and grilled onions, is a must-try.

Lucy's Burger Bar in Denver's Berkeley neighborhood is the undisputed home of the Juicy Lucy in Colorado. Made with secrets and blessings from the original Juicy Lucy at Matt's Bar and Grill in Minnesota, this burger oozes cheese from the middle and has a crispy edge that will leave you craving more.

In Colorado Springs, Skirted Heifer reigns supreme. The name itself hints at the unique and irresistible feature of these burgers - an extra layer of melted cheddar cheese resembling a skirt. It's a flavor explosion that will take you straight to "flavor town," as Guy Fieri would say.

For locals in Colorado Springs, The Green Line Grill is a hidden gem. Their onion-fried burgers, particularly The Original, are a treat for the taste buds. With just pickles and mustard, these burgers let the flavors shine through. And don't forget to try their hand-cut fries, the best in town.

Cañon City's The Owl Cigar Store has been selling burgers since the 1940s, and they haven't changed a thing. The grill and the old-fashioned way of making burgers have stood the test of time. And the best part? The prices are still incredibly affordable, with the double-double burger costing just $4.25.

So next time you're in Colorado, be sure to check out these burger joints for a taste of some of the best burgers in the state. You won't be disappointed.
Share With Others