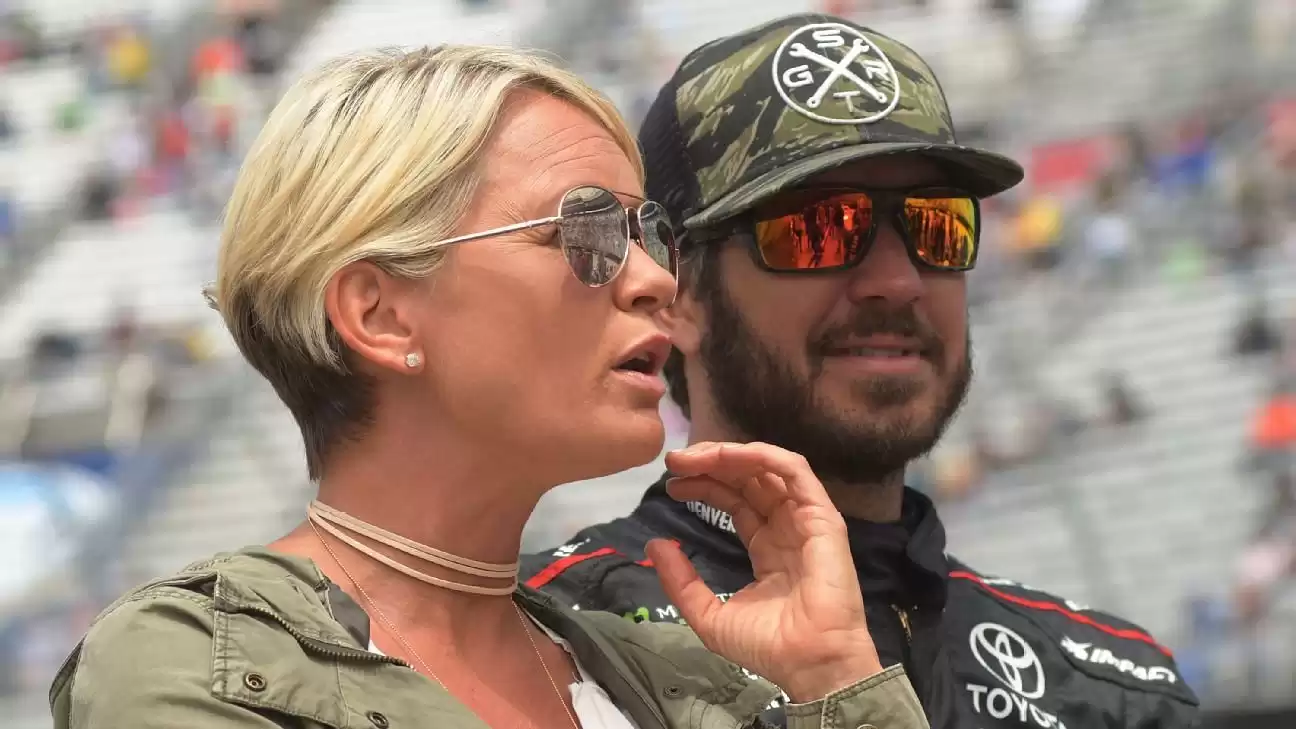 Martin Truex Jr.'s ex-girlfriend Sherry Pollex passes away after 9-year cancer battle
NASCAR driver Martin Truex Jr.'s former partner, Sherry Pollex, passed away after a battle with ovarian cancer. Pollex was well-known for her work in raising awareness and supporting cancer patients. The NASCAR community mourned her loss and expressed their condolences.
NASCAR Cup Series driver Martin Truex Jr. has experienced a heartbreaking loss with the passing of his former long-time partner, Sherry Pollex. The Pollex family confirmed the news in a statement released on Sunday morning.

Sherry Pollex was widely recognized in the world of stock car racing due to her close ties with Truex Jr., who drives for Joe Gibbs Racing. Beyond their personal relationship, Pollex and Truex Jr. were also the driving forces behind The Martin Truex Jr. Foundation, which provided support for ovarian and child cancer patients.

Pollex had been battling ovarian cancer since 2014, and unfortunately, her cancer resurfaced for the third time in 2020. Despite their separation in January of this year, Pollex and Truex Jr. remained dedicated to raising awareness and assisting under-funded cancer initiatives.

Last week, Pollex's Foundation organized a fundraising event called 'Catwalk for a Cause', where NASCAR drivers walked alongside cancer patients. Although she was unable to attend the event, Pollex received a standing ovation from the crowd, acknowledging her unwavering commitment to cancer patients and survivors.

Renowned NASCAR journalist and FOX Sports analyst Bob Pockrass shared the heartbreaking news of Pollex's passing, quoting a statement from the Pollex family. The statement expressed deep sorrow over the loss of their beloved daughter and sister, but also found solace in the fact that Pollex was no longer suffering and had found peace.

Sherry Pollex's legacy will undoubtedly be remembered worldwide, particularly for her courageous battle against cancer and her association with NASCAR. The NASCAR community was left in shock by her sudden passing, and people from all walks of the racing world, including reporters, analysts, and fellow drivers, expressed their condolences to the Pollex family.

Social media platforms were filled with heartfelt tributes to Pollex, with users acknowledging her inspiring nature and her dedication to cancer research and treatment. Many shared personal anecdotes, recounting their interactions with Pollex and expressing their sympathy for her family.

Despite the separation between Pollex and Martin Truex Jr. earlier this year, the stock car racing community embraced her as one of their own. Her impact will continue to be felt in the racing world, even after their parting in January 2023.
Share With Others