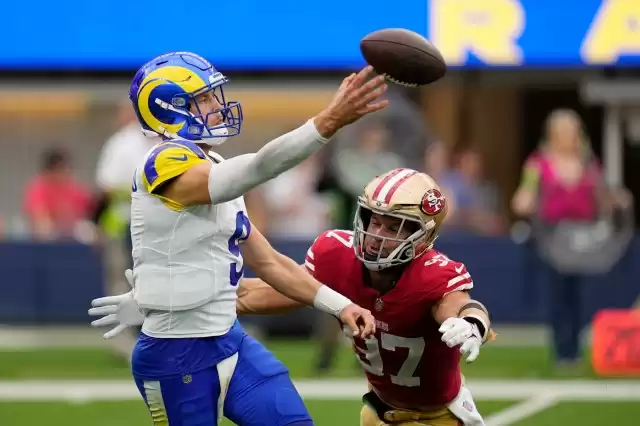 49ers: Evaluating Nick Bosa, Brandon Aiyuk, and a Repeat of 1994
The San Francisco 49ers are facing injury woes ahead of their game against the New York Giants, with both teams dealing with significant injuries to key players. The 49ers are favored to win their upcoming games and have the potential to be favorites in all 17 games this season.
The San Francisco 49ers are preparing for a short week ahead of their Thursday night football game, but there are still plenty of topics to discuss after their impressive win against the Los Angeles Rams on Sunday. In this article, we will explore three big things surrounding the red and gold.

First, let's talk about the corrupted spreadsheets. Pro Football Focus, a football analytics website, assigns grades to every player each week. Surprisingly, their top-graded defensive player for the 49ers in Week 2 was Nick Bosa. However, many fans and analysts, including myself, did not see Bosa making a significant impact on the game. This raises questions about the accuracy and reliability of these grades. Even 49ers head coach Kyle Shanahan expressed his doubts about Bosa's performance. It seems that the spirit of the game and the eye test can sometimes be more valuable than these quantitative measures.

Moving on, both the 49ers and the New York Giants, their upcoming opponents, are facing injury challenges. Brandon Aiyuk, a key player for the 49ers, is dealing with a shoulder ailment that affected his performance in the last game. It is crucial for the team to be proactive and rest him if necessary to prevent further damage. On the other side, the Giants' star running back Saquon Barkley suffered an ankle injury that could keep him out for some time. Barkley is the heart of the Giants' offense, and without him, they may struggle to move the ball effectively.

Lastly, let's talk about the betting odds. The 49ers have opened as 10.5-point favorites for their Thursday night game. This shows the confidence that oddsmakers have in the team's ability to perform well. In fact, there is a real possibility that the 49ers will be favorites in all 17 games this season, which hasn't happened since 1994. However, this will depend on the team's performance, their ability to cover spreads, and their ability to avoid injuries. There are a few key games to watch, including their matchup against the Dallas Cowboys in Week 5, their road game against the Jacksonville Jaguars in Week 10, and their game against the Philadelphia Eagles in Week 13.

Overall, the 49ers have a lot to consider as they prepare for their upcoming games. They will need to focus on their performance on the field, manage injuries effectively, and continue to exceed expectations. With a promising start to the season, it seems that the 49ers may become the favorites in the eyes of both fans and oddsmakers.
Share With Others