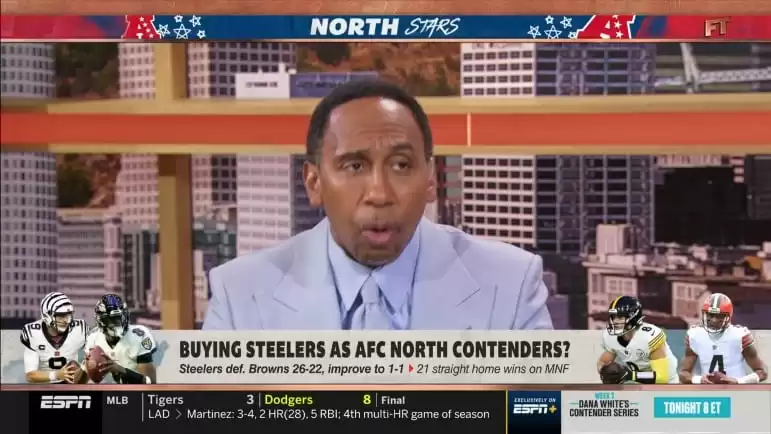 '''Matt Canada Has Had Ample Opportunities': Stephen A. Smith Once Again Calls For Steelers To Move On From Offensive Coordinator'
ESPN analyst Stephen A. Smith calls for the firing of Pittsburgh Steelers offensive coordinator Matt Canada after another poor offensive performance.
In a recent episode of ESPN's First Take, Stephen A. Smith, an analyst and avid Pittsburgh Steelers fan, expressed his frustration with offensive coordinator Matt Canada for the second week in a row. Smith criticized Canada for his conventional and predictable play-calling, claiming that it has hindered the performance of key players like Najee Harris, George Pickens, and Pat Freiermuth. Smith firmly believes that Canada should be fired.

Smith also pointed out that Canada has not shown any improvement in the three years he has been with the Steelers. According to Smith, Canada's presence in Pittsburgh is primarily due to quarterback Ben Roethlisberger's inability to work effectively with other coordinators. Although the Steelers decided to retain Canada this past offseason to maintain some continuity in the offense, it has not yielded positive results thus far.

One noticeable decline has been in the performance of quarterback Kenny Pickett, who has not been able to replicate his success from the second half of the previous season. Additionally, the running game has taken a step back compared to its performance at the end of 2022. Despite having a talented roster, the Steelers' offense has been held back by Canada's play-calling. While Pickens had a standout game with 127 receiving yards, his success was overshadowed by the absence of Diontae Johnson. Canada has failed to fully utilize the team's weapons, resulting in a lackluster offensive output.

Scoring only two touchdowns in two games is a clear indication of the offense's struggles. Canada and the rest of the offense must quickly turn things around, especially with an upcoming prime-time matchup against the Las Vegas Raiders. The current level of performance is simply unacceptable, and Canada should shoulder much of the blame.

If the offense does not improve, it could be a challenging season for the Steelers. Relying solely on the defense is not sustainable, as there have been signs of weakness within that unit as well. The offense needs to support the defense and play complementary football. Canada must devise strategies to generate points for the Steelers, something he has yet to demonstrate effectively.

The coming weeks will reveal whether there will be any improvements in the offense. Confidence in Canada is currently low, and concerns about the Pittsburgh offense are prevalent. However, if the execution and play-calling can improve, there is still hope for the team to turn things around and become a formidable force. With a record of 1-1, the Steelers have time to make necessary adjustments. The window for change is closing rapidly, and it is crucial for the team to act swiftly.
Share With Others