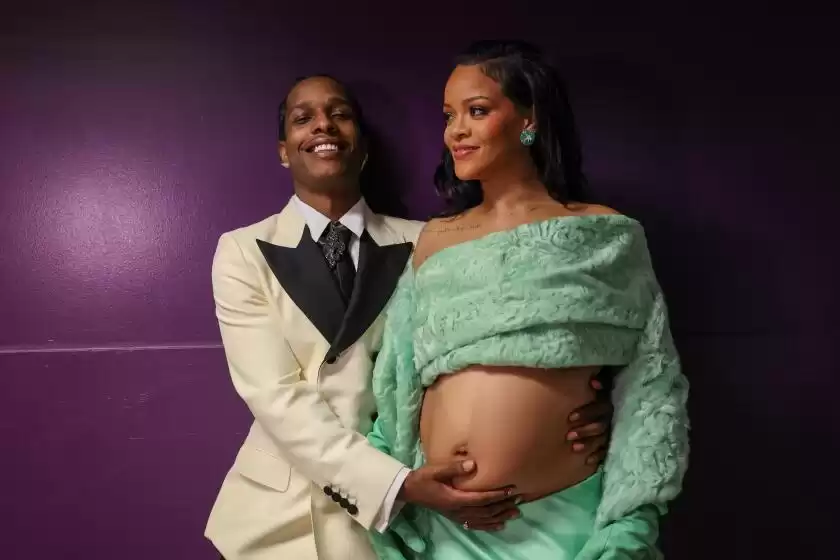 Rihanna & ASAP Rocky Reveal First Photos of Newborn Son Riot Rose, Together with Big Brother RZA
Rihanna and ASAP Rocky introduce their second child in a family photo shoot, revealing the baby's name as Riot Rose Mayers.
Rihanna and ASAP Rocky have recently introduced their second child to the world through a heartwarming family photo shoot. The adorable baby, named Riot Rose Mayers, is seen swaddled in a cozy blanket while Rihanna lovingly holds her newborn son close to her chest. In another photo shared on the photographer's Instagram, ASAP Rocky, whose real name is Rakim Mayers, is seen cradling the child who is dressed in light pink overalls. The couple poses alongside their firstborn, RZA Athelson Mayers, creating a beautiful family moment captured in pictures. Rihanna, a Grammy-winning artist and fashion icon whose real name is Robyn Fenty, commented on the post by Miles Diggs, referring to the boys as "The Mayers Boys."

According to TMZ, Riot was born on August 3, and the news was first reported by the outlet. The name of the newborn was revealed a month later, which sparked speculation among fans due to its connection to ASAP Rocky's recent single "Riot (Rowdy Pipe'n)." The lyrics of the song led fans to wonder if Rihanna and ASAP Rocky had secretly tied the knot. In the track, ASAP Rocky raps, "My wife is erotic, I'm smokin' exotic."

During the 2023 Super Bowl halftime show in February, Rihanna surprised the world by announcing her pregnancy with Riot. It was her first live performance in years, where she showcased her dancing skills and sang her popular hits while wearing a red jumpsuit that showcased her growing baby bump.

After the birth of their first child together, Rihanna chose to keep RZA out of the public eye, only occasionally sharing videos of the child on social media. When asked about this decision in an interview with the Associated Press last year, Rihanna explained, "We just didn't get around to it yet, really. We've just been living. But I guess there's a certain freedom that comes with kind of just like getting it out there."

Since stepping down as the CEO of her Savage X Fenty lingerie brand in June, Rihanna has been more open to sharing photos of her children. In August, before giving birth to Riot, she released a Savage X Fenty maternity line, showcasing her pregnancy journey. In a series of Vogue photos, she posed while cradling and nursing RZA, emphasizing the message that parenthood doesn't mean sacrificing sexiness and self-confidence.

While Rihanna has not yet announced whether she is working on new music, she revealed to Apple Music earlier this year that her comeback to live performances was influenced by her experience with motherhood. She expressed how becoming a mom has empowered her and given her the confidence to take on any challenge. Rihanna believes it is important for her son to witness her pursuing her passions on stage.

In conclusion, Rihanna and ASAP Rocky's recent family photo shoot introduces their second child, Riot Rose Mayers, to the world. The couple's love and joy are evident in the heartwarming images, capturing precious moments as a family. Rihanna's journey into motherhood has influenced her perspective on life and her artistic endeavors, inspiring her to continue pursuing her passions while embracing the role of a parent.
Share With Others