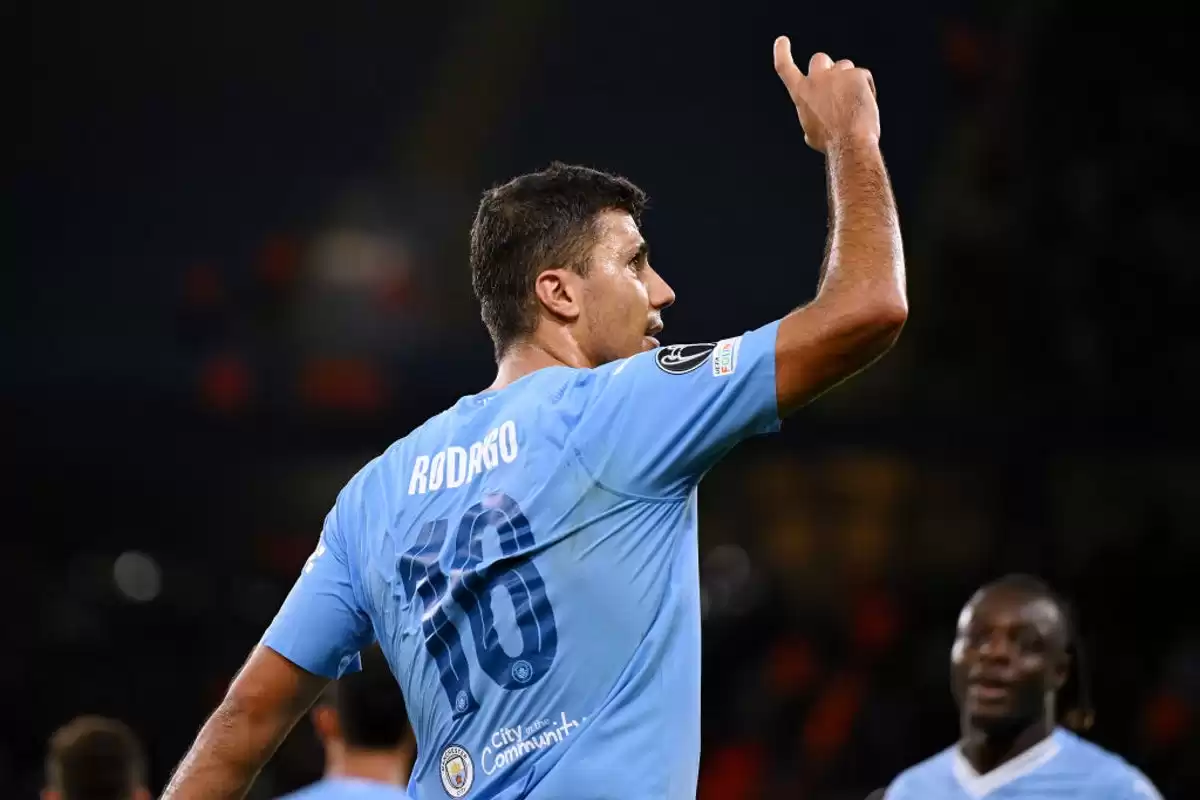 Rodri's attacking evolution: Filling Man City void
Rodri's goal helped Manchester City secure a win against Red Star Belgrade in the Champions League, showcasing his attacking prowess.
In the realm of Rodri's illustrious Champions League career, his recent goal against Red Star Belgrade may not rank as the most significant or important. However, it was a fitting conclusion to Manchester City's defense of their continental crown, as it was the same man who secured their holy grail with a crucial strike.

Rodri's performance against Internazionale in Istanbul had already established him as a formidable force, and he continued to impress against Red Star Belgrade. His goal was a display of style and finesse, as he skillfully exchanged passes with Phil Foden, embarked on a solo run, and expertly placed the ball into the net. This goal showcased Rodri's evolution from a defensive midfielder who excels in passing to a goal-scoring threat, with four goals in his last nine games, including the Champions League final.

While some of Rodri's previous goals, such as his opener against Bayern Munich, the decider against Inter, and the recent winner against Sheffield United, demonstrate his stature and ability to seize the initiative, there is also evidence of a more attacking mindset. It is possible that Rodri's increased forward movement is a result of finding his defensive duties too easy or a recognition of the need to compensate for the absence of key players like Kevin De Bruyne and Ilkay Gundogan.

Regardless of the reasons behind his attacking prowess, Rodri's contribution in averting a major upset at the start of this season's competition cannot be understated. Red Star Belgrade had a lead at halftime, and there was a genuine possibility that they could end City's long unbeaten home run in Europe. However, City turned the tide and emerged victorious, thanks in part to a costly error by Red Star Belgrade's goalkeeper, Omri Glazer.

Despite City's dominance in terms of shots (37 in total), they found themselves trailing to the underdogs. It took a stellar performance from Julian Alvarez, who scored twice, to secure the win. Erling Haaland, on the other hand, missed several opportunities, adding to Red Star Belgrade's resilience. Glazer, apart from his error, made numerous impressive saves, denying City on multiple occasions.

For a brief moment, it seemed like an upset was on the cards, with City having 22 shots compared to Red Star Belgrade's one before halftime. However, Haaland quickly equalized after the break, setting up Alvarez for another goal 13 minutes later. Rodri's goal sealed the victory for City, ensuring there was no way back for Red Star Belgrade.

While City's eventual victory may seem predictable, it is worth noting that they have a history of making group stages seem like processions. Their formidable home record, with 25 wins in 27 European ties, speaks volumes about their dominance. However, this particular match proved to be unexpectedly challenging for a team that had a perfect record at the Etihad in 2023.

Now that City has conquered Europe, the question arises: what comes next? The fans may still boo the competition's anthem out of habit, but there is a newfound sense of pride as they chant "Champions of Europe, we know what we are." The trophy, which had long eluded City, was proudly displayed by Mike Summerbee, a reminder of their journey to claim the title.

As Pep Guardiola pointed out, there are many one-time winners in the history of the Champions League, including Red Star Belgrade. It is safe to assume that the Serbian club will remain stuck on one title for the foreseeable future. However, their resilience and sharpness on the break showcased their potential. Despite their valiant efforts, a City victory, with a goal from Rodri, has become a familiar outcome.
Share With Others