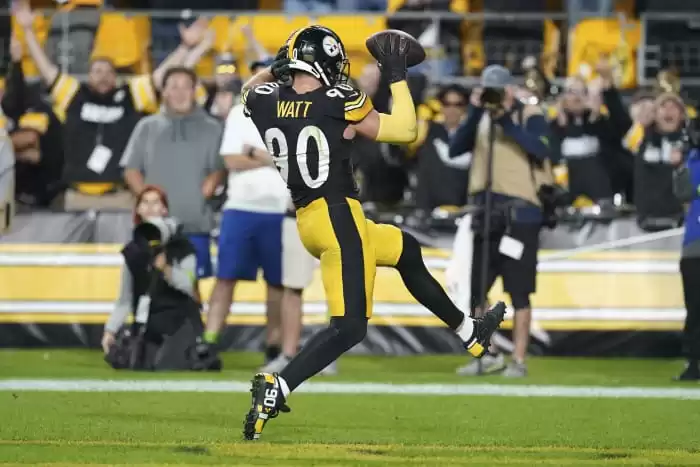 T.J. Watt's scoop-and-score lifts Steelers past Browns 26-22 as Cleveland loses Nick Chubb to injury
Pittsburgh Steelers beat Cleveland Browns 26-22 in a game overshadowed by a serious knee injury to Nick Chubb.
In a highly anticipated Monday night matchup, the Pittsburgh Steelers secured a 26-22 victory over the Cleveland Browns. The game was marked by a significant knee injury to Browns' star running back Nick Chubb, overshadowing the on-field action.

The Steelers, known for their dominance over the Browns at home, extended their winning streak to 20 consecutive victories in regular-season games. The momentum started early in the game when outside linebacker Alex Highsmith intercepted a pass from Browns' quarterback DeShaun Watson and returned it for a touchdown. Highsmith's impressive play set the tone for the Steelers' defense.

However, the game took a turn when Chubb suffered a devastating knee injury. While attempting to reach the Pittsburgh 3-yard line, Chubb's left leg bent awkwardly underneath him as he collided with Steelers safety Minkah Fitzpatrick. The injury was so severe that a replay was shown only once in the stadium, and ESPN chose not to show any replays during their telecast. Both teams showed their concern and support for Chubb as players knelt in prayer while medical personnel attended to him. Chubb was ultimately carted off the field, leaving a void in the Browns' offense.

Despite Chubb's absence, the Browns fought hard, with Jerome Ford stepping in as his replacement and delivering an impressive performance. Ford rushed for 106 yards and caught a 3-yard touchdown pass. However, Cleveland's mistakes proved costly, as they committed four turnovers and were penalized eight times for 81 yards. These miscues prevented the Browns from securing their first regular-season victory in Pittsburgh since 2003.

Watson, the Browns' quarterback, had a mixed performance, completing 22 of 40 passes for 235 yards with a touchdown and an interception. However, his unsportsmanlike conduct penalties, where he grabbed the facemask of a Steelers player, hindered the team's progress on offense.

On the Steelers' side, their offense continued to struggle, but they managed to avoid a 0-2 start to the season. Quarterback Kenny Pickett completed 15 of 30 passes for 222 yards, including a 71-yard touchdown pass to George Pickens. This play injected some life into the crowd at Acrisure Stadium.

The game's turning point came in the fourth quarter when T.J. Watt, the Steelers' defensive standout, scooped up a fumble by Watson and returned it 17 yards for a touchdown. This go-ahead score proved to be the difference-maker, as Pittsburgh held on for the win.

In terms of injuries, the Browns lost defensive end Za'Darius Smith and cornerback Greg Newsome to undisclosed injuries. The Steelers also suffered some setbacks, with wide receiver/kick returner Gunner Olszewski entering the concussion protocol and safety Minkah Fitzpatrick leaving the game with a chest injury.

Looking ahead, the Browns will host the Tennessee Titans next Sunday, while the Steelers will travel to Las Vegas to face the Raiders. The Steelers will aim to secure their first road victory against the Raiders since 1995.
Share With Others