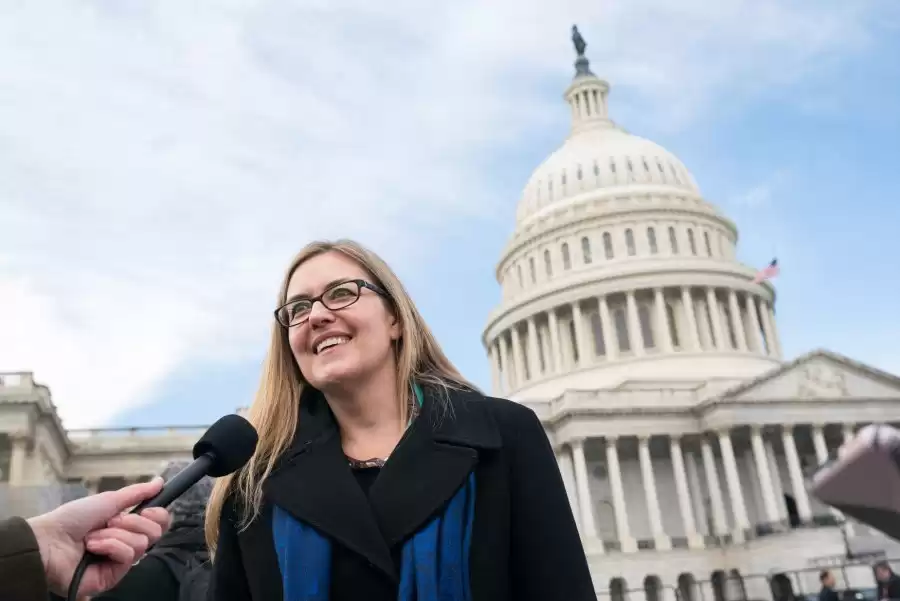 Virginia Rep. Jennifer Wexton Will Not Seek Re-Election Following New Diagnosis
Democratic U.S. Representative Jennifer Wexton of Virginia will not seek re-election after being diagnosed with a rare neurological disorder.
Jennifer Wexton, a Democratic member of the U.S. House of Representatives from Virginia, made a significant announcement on Monday. After being diagnosed with a rare neurological disorder, she revealed that she will not seek re-election. Wexton, who was elected representative of Virginia's 10th congressional district in 2018, described her decision as "heartbreaking." Initially, she believed she had Parkinson's disease, but further testing revealed that she actually had progressive supranuclear palsy, an incurable brain disorder.

Back in April, Wexton received her initial diagnosis and expressed her intention to continue serving for many more years while raising awareness of Parkinson's. However, as her symptoms did not respond well to treatment, she grew concerned. Seeking additional medical opinions and testing, her doctors modified her diagnosis to progressive supranuclear palsy, which she described as a kind of "Parkinson's on steroids."

In a statement issued on Monday, Wexton shared her honest and heartfelt thoughts on her new diagnosis. She acknowledged that progressive supranuclear palsy is a tough condition with no possibility of improvement. While she will continue treatment options to manage her symptoms, they are not as effective for her condition as they are for Parkinson's. This reality led her to make the difficult decision to retire from office and prioritize spending time with her loved ones.

Reflecting on her unexpected journey in Congress, Wexton expressed gratitude for the people she has met and the challenges they have faced together. She emphasized the ways in which her team and she have made a difference in the lives of their neighbors, both big and small. Wexton acknowledged that her time serving in Congress has been far from typical or as expected, but she will forever cherish the connections she has made.

Progressive supranuclear palsy is often misdiagnosed as Parkinson's and has severe effects on walking, balance, eye movements, and swallowing. As time passes, the condition worsens and can lead to life-threatening complications such as pneumonia and swallowing difficulties, according to the Mayo Clinic.

Jennifer Wexton, 55, made history five years ago by winning office in a district that had been under GOP control for 40 years. Her victory marked a turning point, and she is well-known for her outspoken criticism of former President Donald Trump and her advocacy for LGBTQ rights. She even displayed a transgender pride flag outside of her office.

Colleagues and politicians have shown their support and sympathy for Wexton's decision. Senator Mark Warner, a Democrat from Virginia, praised Wexton for her service and expressed his heartbreak over her decision not to run again. He assured her that they are all standing with her during this challenging time.

Wexton's decision to step down creates an open House seat, which political analysts believe may make Democrats vulnerable in the upcoming elections. The future of the district remains uncertain as Wexton focuses on her health and well-being.
Share With Others