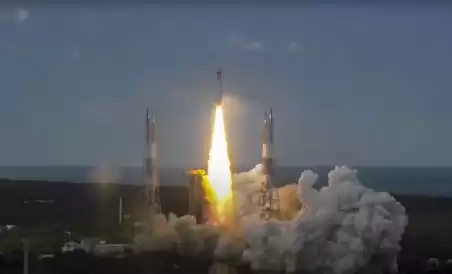 Significant Female Representation in Chandrayaan-3, but Not Leading the Mission
Chandrayaan-3 mission led by men, but many women involved: ISRO official.
The stark contrast between the Chandrayaan 2 and Chandrayaan 3 missions lies in the gender makeup of the teams leading these lunar expeditions. While the Chandrayaan-2 mission boasted the significant contributions of two women, Project Director M Vanitha and Mission Director Ritu Karidhal Srivastava, the Chandrayaan-3 mission is primarily helmed by men. However, it is important to note that a substantial number of women have played integral roles behind the scenes in the Chandrayaan-3 mission.

According to a senior official from the Indian Space Research Organisation (ISRO), approximately 54 female engineers and scientists have been directly involved in the Chandrayaan-3 mission. These women hold positions such as associate and deputy project directors, as well as project managers of various systems at different centers. It is worth mentioning that these women have chosen to remain anonymous, highlighting the significance of their contributions rather than seeking recognition.

The common objective shared by both missions is the successful soft landing of the lander on the lunar soil, allowing the rover to conduct chemical experiments. However, there are notable distinctions between the two missions in terms of lander specifications, payload experiments, and other aspects.

In terms of leadership, Chandrayaan-3 sees Mohan Kumar as the Mission Director, Biju C Thomas as the Vehicle/Rocket Director, and Dr P Veeramuthuvel as the Spacecraft Director. These individuals, along with the rest of the team, are responsible for ensuring the success of the mission.

It is important to acknowledge that the visibility of women in the Chandrayaan-3 mission may be limited. P Madhuri, an official at the Sriharikota rocket port, is the only woman from ISRO who may be seen by the public as she serves as the commentator during rocket launches.

The upcoming launch of Chandrayaan-3 is scheduled for 2.35 pm on Friday, with the Indian rocket LVM3 lifting off from the Sriharikota rocket port. The spacecraft carries both a lander and a rover, marking another significant step in India's space exploration endeavors.

In conclusion, while the gender composition of the teams leading the Chandrayaan 2 and 3 missions may differ, it is crucial to recognize the invaluable contributions of women in the Chandrayaan-3 mission. These women, alongside their male counterparts, have worked tirelessly to ensure the success of the mission, emphasizing the collaborative and diverse nature of India's space exploration efforts. As we eagerly await the launch of Chandrayaan-3, we anticipate further advancements in our understanding of the moon and its mysteries.
Share With Others