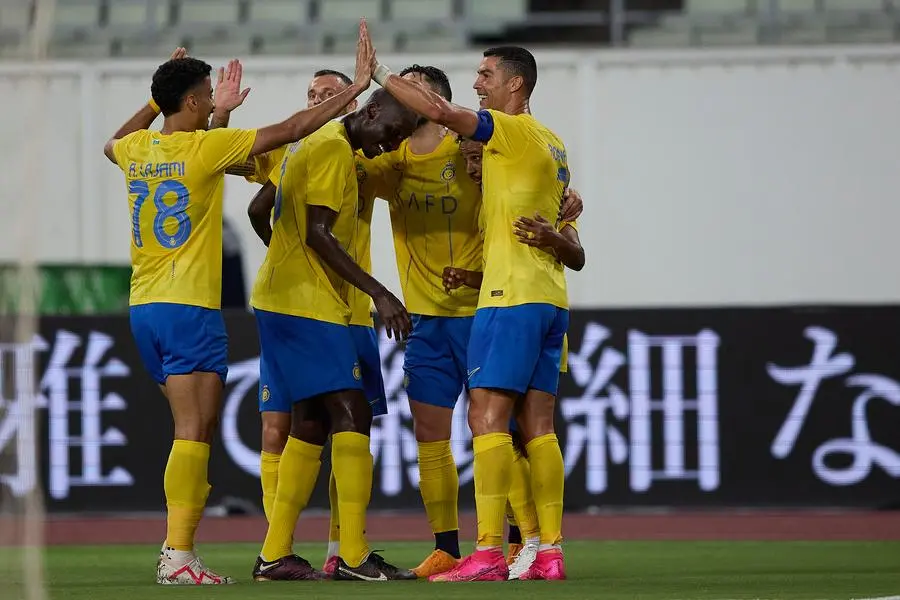 Shabab Al-Ahli to Face Al-Nassr in Asian Champions League Playoffs
Shabab Al Ahli of the United Arab Emirates will face Saudi Pro League side Al-Nassr in the Asian Champions League.
In an exciting turn of events, Shabab Al Ahli of the United Arab Emirates emerged victorious against Al-Wehdat in a playoff, securing a spot in the Asian Champions League group phase. Their impressive 3-0 win paved the way for a highly anticipated match against Al-Nassr, a prominent Saudi Pro League team. Cristiano Ronaldo and his Al-Nassr teammates will be hosting the game in Riyadh next Tuesday.

Shabab Al Ahli's triumph was made possible by the second-half goals from Azizjon Ganiev, Renan, and Munas Dabbur. Their exceptional performance on the field ensured their dominance over the Jordanian team. With this victory, Shabab Al Ahli has set the stage for an intense battle against Al-Nassr.

Meanwhile, Sharjah also secured their place in the next round with a 2-0 victory over India's Bashundhara Kings. Luanzinho's impressive brace propelled Sharjah to success. Their next challenge will be against Iran's Tractor club. The Emiratis are eager to showcase their skills and continue their journey in the Asian Champions League.

AGMK from Uzbekistan showcased their resilience by holding on to a narrow 1-0 win against Al-Seeb from Oman, despite Martin Boakye's 73rd-minute sending off. Khurshid Giyosov's goal early in the second half proved to be the game-changer. AGMK will now face off against Qatari side Al-Arabi in the upcoming clash.

Moving to the eastern side of the draw, Vietnam's Haiphong displayed their determination by equalizing in the 88th minute against Hong Kong Rangers. This led the game into extra time, where Haiphong dominated with a 4-1 victory. Yumemi Kanda initially gave the Hong Kong Premier League side the lead, but Nguyen Tuan Anh's late equalizer shifted the momentum. Haiphong's Yuri Mamute then scored twice in the second period of extra time, with Martin Lo also finding the back of the net.

Haiphong's impressive performance has earned them a match against South Korea's Incheon United in the next round. On the other hand, defending champions Urawa Red Diamonds will be eagerly awaiting their opponents. Lee Man will be hosting Bali United from Indonesia in Hong Kong, and the outcome of this match will determine Urawa Red Diamonds' next challenge.

The draw for the group phase of the Asian Champions League is scheduled to take place in Kuala Lumpur on August 24. Excitement is building as teams prepare for the upcoming matches, which are set to kick off on September 18. Football fans around the world eagerly anticipate the intense battles and extraordinary performances that lie ahead in the Asian Champions League.
Share With Others