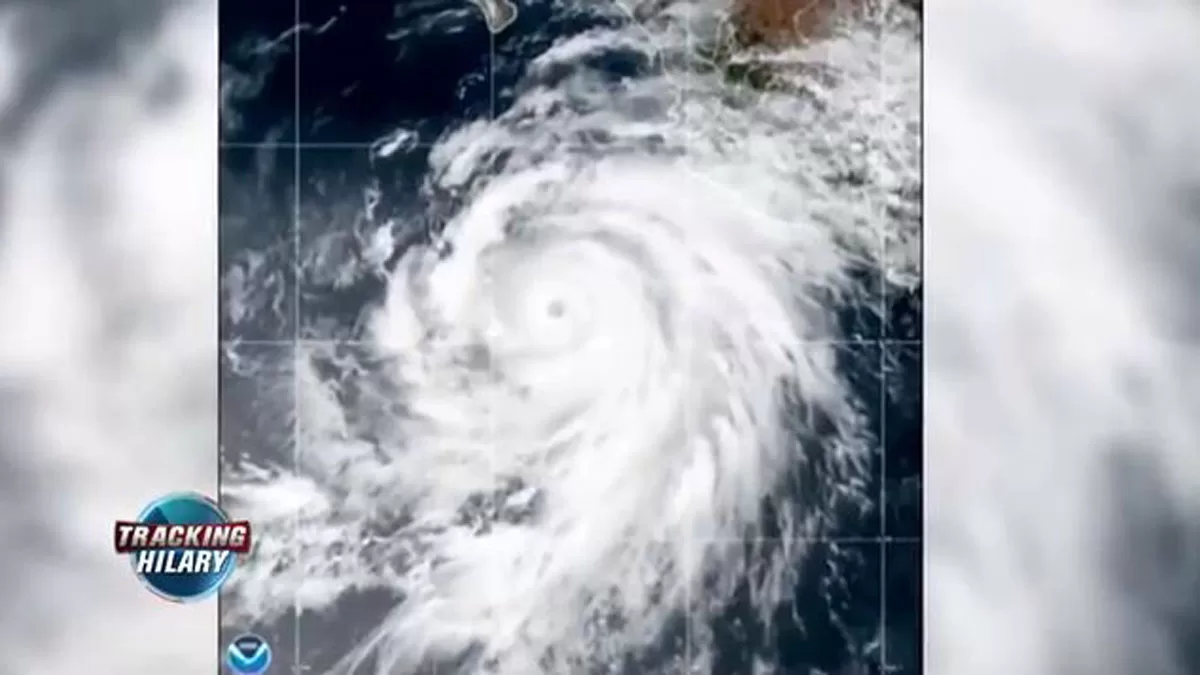 Deluge from Tropical Storm Hilary hits California after making landfall along Baja coast
Deadly floodwaters hit Mexico's Baja California as Tropical Storm Hilary moves ashore, bringing torrential rain to Southern California.
Deadly floodwaters have caused widespread devastation in Mexico's Baja California region as Tropical Storm Hilary made landfall and moved into Southern California, bringing heavy rain and the potential for flash floods. This is the first tropical storm to hit Southern California in 84 years, and forecasters are warning of mudslides, isolated tornadoes, high winds, and power outages. The storm hit a sparsely populated area along the Mexican coast, south of Ensenada. It is expected to move towards Tijuana, a city prone to mudslides, and threaten the improvised homes on the hillsides near the U.S. border. Flash-flood warnings have been issued for at least 9 million people in Southern California, particularly in desert areas and hillsides with wildfire burn scars.

The impact of the storm has already been felt in Southern California, with mud spilling onto highways, drainage systems overwhelmed, and tree branches falling. The National Weather Service has also warned of the possibility of tornadoes in eastern San Diego County. In addition to the storm, an earthquake with a preliminary magnitude of 5.1 struck near Ojai, northwest of downtown Los Angeles. There have been no reports of major damage or injuries.

The effects of Tropical Storm Hilary are expected to extend beyond Southern California. There are concerns that the storm could bring once-in-a-century rains to Nevada, Oregon, and Idaho. Hilary is projected to remain a tropical storm as it moves into central Nevada before dissipating. The director of the National Hurricane Center, Michael Brennan, emphasized that the biggest threat from the storm is the heavy rainfall, which could lead to dangerous flooding. He urged people to avoid driving or walking across flooded roads.

Tropical Storm Hilary is just the latest in a series of major climate disasters that have affected the U.S., Canada, and Mexico. The island of Maui in Hawaii is still recovering from a devastating wildfire that killed over 100 people, while Canada is experiencing its worst fire season on record. In Mexico, the cities of Ensenada and Tijuana have closed all beaches and opened shelters to accommodate those affected by the storm. Mexican army troops have been deployed to assist with rescue and recovery efforts.

In response to the storm, California Governor Gavin Newsom has declared a state of emergency, and the Federal Emergency Management Agency (FEMA) has mobilized resources to provide assistance. Evacuation warnings have been issued for Santa Catalina Island and several mountain and foothill communities in San Bernardino County. Homeless individuals in Los Angeles are being moved to shelters, and state beaches in San Diego and Orange counties have been closed. Residents in flood-prone areas in Nevada and Arizona are also being urged to take precautions.

As Tropical Storm Hilary continues to move across the region, it is important for residents to stay informed and follow the guidance of state and local officials. Precautions should be taken to ensure personal safety and minimize the risk of damage from flooding, mudslides, and other storm-related hazards.
Share With Others