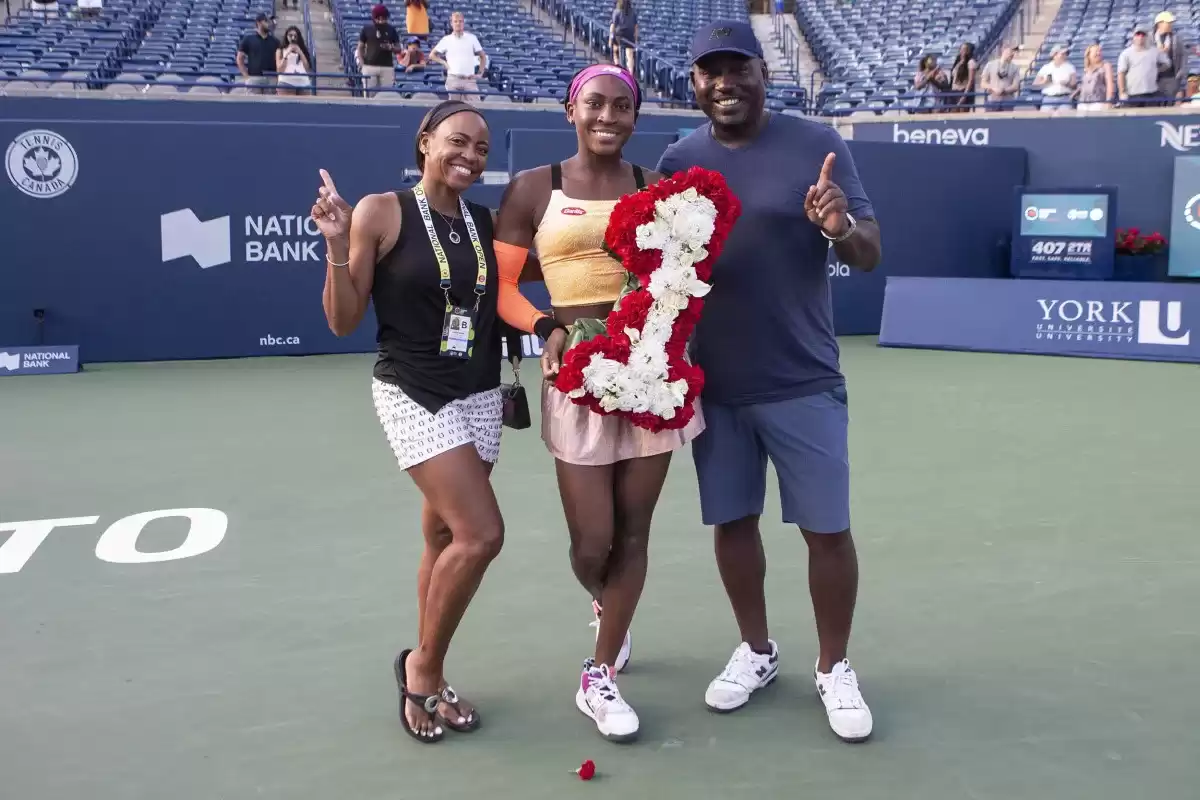 How Coco Gauff's parents support her during impressive U.S. Open run
Coco Gauff, the 19-year-old tennis player, credits her parents for her success as she reaches the U.S. Open final.
Coco Gauff, at the age of 19, has reached a pivotal moment in her tennis career, and she attributes her success to her parents. On September 9th, she will compete in the final match of the U.S. Open against Aryna Sabalenka, becoming the youngest American (male or female) to reach this stage of the tournament since Serena Williams in 1999 when she won her first major singles title at the age of 17.

Although Coco Gauff currently holds five World Tennis Association singles titles, a win on Saturday would mark the first major title of her career. After a WTA match last month, Coco Gauff expressed her gratitude towards her parents, Corey and Candi Gauff, for their support in helping her reach this level of success.

Corey Gauff, who played basketball at Georgia State University, exposed his daughter to various sports, including basketball and the church praise dance team, as she was growing up. It was Corey who recognized Coco's talent for tennis and became her first coach. During her incredible run at Wimbledon in 2019, when she was just 15 years old, her parents exemplified positive sports parenting by teaching her the importance of maintaining uplifting body language on the court.

Corey Gauff emphasized the significance of cheering oneself on and displaying good body language, not only in sports but in life as well. His training and words of wisdom paid off when Coco Gauff defeated Venus Williams at the tournament. In a post-match press conference, she credited her father for instilling in her the belief that she could be great.

Moving forward to her remarkable performance at the 2023 U.S. Open, Coco Gauff revealed that her father continues to play an active role in her match preparation. However, he also fulfills his role as a father, sending her scouting reports while her mother, Candi Gauff, focuses on providing support and being there for her emotionally.

Candi Gauff, who had an athletic background as a hurdler and heptathlete at Florida State University, intentionally refrains from getting involved in Coco's training and coaching. She wants to be a source of comfort and support outside of the court, believing that too many voices can be overwhelming. Candi also played a crucial role in helping Coco "compartmentalize" sports and school, allowing her to have as normal of a life as possible.

During Coco's breakout performance at Wimbledon, Candi Gauff gained attention for her celebratory dance moves. Coco was thrilled to share the viral clip and contribute to her mom's meme status. Reflecting on the victory against Venus Williams, Candi Gauff shared a heartwarming moment when Coco asked her if she truly believed she could win. Candi's response was an emphatic "Yes!"

In conclusion, Coco Gauff's journey to the final match of the U.S. Open is a testament to the unwavering support and guidance provided by her parents, Corey and Candi Gauff. Their belief in her abilities, combined with their roles as coach and supportive parent, have played a significant role in her success. As Coco continues to make her mark in the tennis world, her parents remain instrumental in her development both on and off the court.
Share With Others