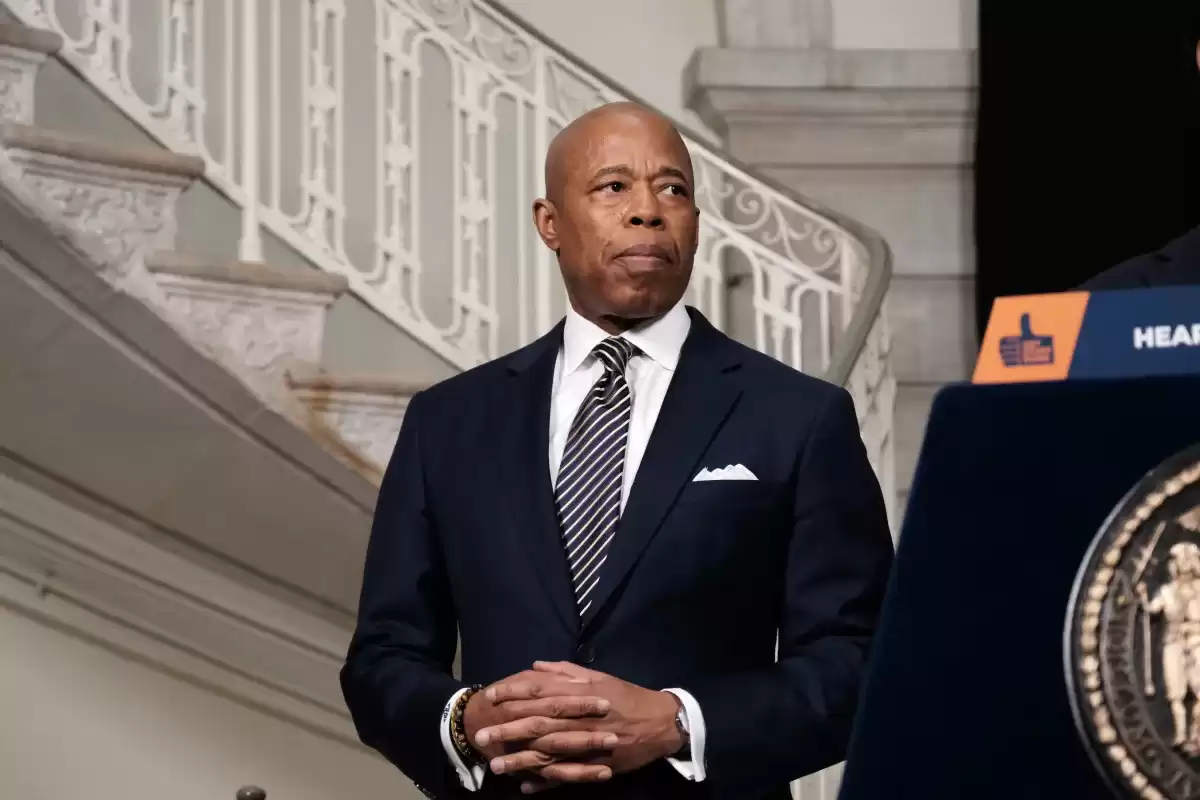 "I don't see an ending to this" - NYC Mayor Eric Adams calls influx of migrants a national crisis
New York City Mayor Eric Adams warns that the ongoing migrant crisis will "destroy" the city, citing financial burden and budget cuts.
New York City Mayor Eric Adams expressed his grave concerns about the ongoing migrant crisis during a town hall on the Upper West Side. He stated that the constant flow of asylum seekers entering the city is a financial burden and has led to multiple rounds of budget cuts to city agencies. Adams, a former police officer, emphasized that he does not see an end to this crisis, which he believes will ultimately "destroy" the nation's most populated city.

Adams highlighted that approximately 10,000 migrants are entering the city every month, and the city is not receiving adequate support to address this "national crisis." He emphasized that this situation will impact every aspect of the community, as the city faces a $12 billion deficit, leading to budget cuts across all city services.

The mayor noted that migrants were initially coming from Venezuela, but now people from Ecuador, Mexico, Russia, and parts of Western Africa are also entering the city. Currently, nearly 60,000 migrants occupy beds in traditional New York City shelters, with over 200 emergency sites established. Additionally, around 20,000 migrant children are expected to join New York City students as they return to school.

Asylum seekers often find themselves in a state of limbo, waiting for work authorization, jobs, and other necessary resources before starting their new lives in the U.S. Despite receiving approximately $140 million in federal funds, New York City has spent around $1.5 billion on housing and serving migrants in the past fiscal year. City officials anticipate this spending to rise to $4 billion in the current year.

On August 9, Adams called for the federal government to declare a state of emergency to address the crisis at the border. However, the city's requests have largely gone unaddressed, prompting the mayor to demand a "decompression strategy at the border" during a rally in Lower Manhattan on August 31. Adams emphasized the need for the White House to expedite work visas for asylum seekers, stating that there are thousands of available jobs that can be filled.

The Biden administration has established 11 federally owned facilities, operated by the U.S. Department of Homeland Security, to assist New York asylum seekers. However, most of these facilities are located outside the city, including Stewart International Airport in New Windsor and an Atlantic City location in New Jersey.

Adams has faced criticism for his comments, with some arguing that his rhetoric could incite violence against immigrants. Murad Awawdeh, executive director of the New York Immigration Coalition, stated that the mayor should be focused on addressing the existing shelter crisis rather than dividing the city further.

Despite the backlash, some Republicans, including Rep. Nick LaLota and House Speaker Kevin McCarthy, praised Adams for his honesty in acknowledging the scope of the migrant crisis. They called for the repeal of New York City's sanctuary policies and the reinstatement of the "Remain in Mexico" policy by President Biden to address the crisis effectively.
Share With Others