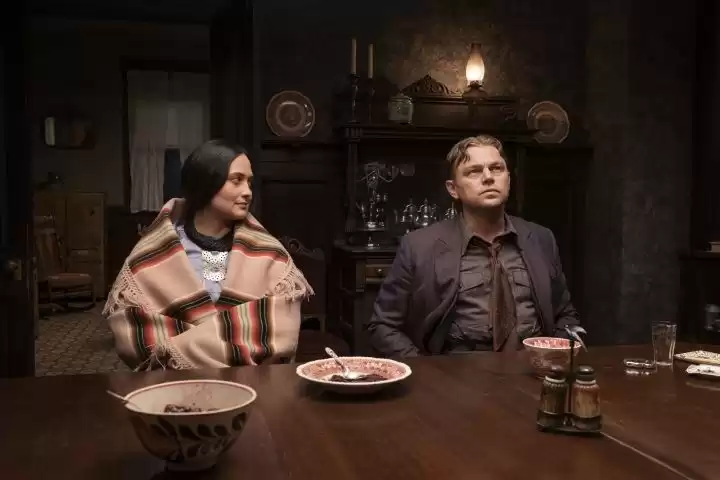 "Be captivated by 'Killers of the Flower Moon': Leonardo DiCaprio & Robert De Niro shine in new Martin Scorsese movie trailer"
The new trailer for "Killers of the Flower Moon" starring Leonardo DiCaprio and Robert De Niro is out now.
The highly anticipated trailer for "Killers of the Flower Moon" has been released, featuring an all-star cast including Leonardo DiCaprio, Robert De Niro, Jesse Plemons, John Lithgow, Lily Gladstone, and more. Directed by Martin Scorsese, this upcoming film delves into a gripping love story amidst a backdrop of violence.

The teaser introduces us to the characters of Ernest Burkhart, played by DiCaprio, and Mollie, portrayed by Gladstone. Their love story takes center stage, but it is overshadowed by the presence of William Hale, played by De Niro, who poses a provocative question to DiCaprio's character about his preferences.

The synopsis of the film reveals that the story revolves around the Osage tribe in the 1920s, as they face mysterious murders that prompt a significant investigation by the FBI, led by J. Edgar Hoover. At the turn of the 20th century, the Osage Nation experienced immense wealth due to oil discoveries, making them some of the richest people in the world overnight. However, their newfound fortune attracted unscrupulous individuals who exploited and stole their money, ultimately resorting to murder.

"Killers of the Flower Moon" is based on a true story, and it unfolds through the unlikely romance between Ernest Burkhart and Mollie Kyle. This epic western crime saga explores the intersection of genuine love and unimaginable betrayal. Alongside DiCaprio and Gladstone, the film also stars Jesse Plemons, John Lithgow, Brendan Fraser, Tantoo Cardinal, Cara Jade Myers, JaNae Collins, and Jillian Dion. Martin Scorsese, an Academy Award winner, directs the film from a screenplay by Eric Roth and Scorsese, adapted from David Grann's best-selling book.

Fans can expect to see "Killers of the Flower Moon" debut worldwide on October 20, with subsequent streaming on Apple TV+ at a later date, as announced by Apple Original Films last month. This highly anticipated film promises to captivate audiences with its star-studded cast, gripping storyline, and the masterful direction of Martin Scorsese.
Share With Others