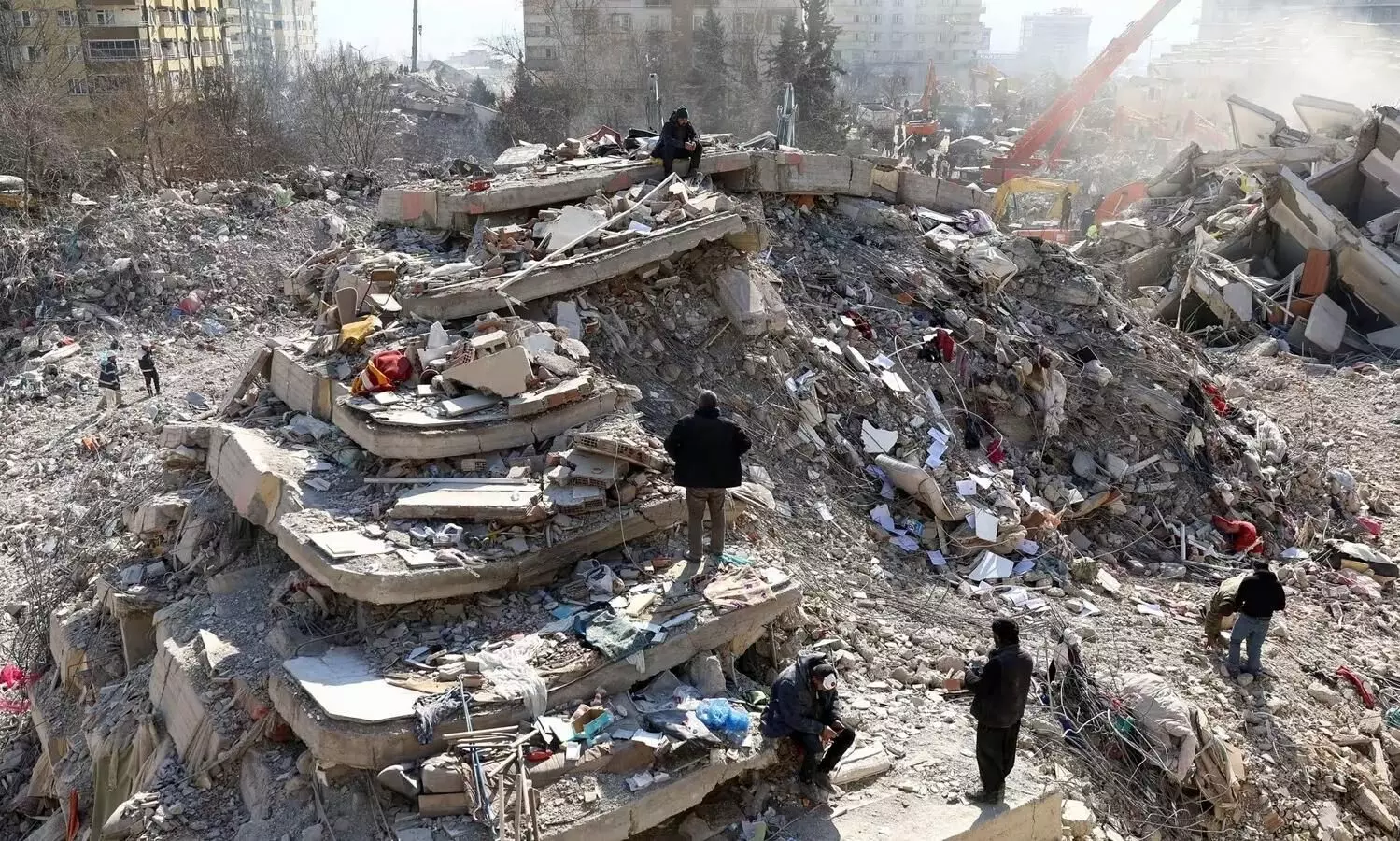 Morocco Earthquake Death Toll Surpasses 2,800 as Rescuers Keep Searching for Survivors
Morocco earthquake death toll rises to over 2,800 as search-and-rescue teams from around the world join efforts to find survivors.
Villagers in certain parts of Morocco are currently facing the devastating aftermath of the country's largest earthquake since 1960. These villagers have been forced to camp outside for a fourth consecutive night, grieving for their lost loved ones and searching for survivors amidst the rubble of their homes. The death toll has now surpassed 2,800.

In response to this tragedy, search-and-rescue teams from Britain, Qatar, and Spain have joined the Moroccan efforts to locate survivors. The earthquake, which had a magnitude of 6.8, struck on September 8 in the High Atlas Mountains, with its epicenter located 72 kilometers (45 miles) southwest of Marrakech.

According to state TV, the death toll has risen to 2,862, with an additional 2,562 individuals sustaining injuries. Rescuers have expressed the difficulty of finding survivors due to the prevalence of traditional mud brick houses in the region, as these structures have crumbled under the force of the earthquake.

One village that has been particularly devastated is Tinmel, where nearly every house has been reduced to rubble, leaving the entire community homeless. The smell of death permeates the air as dozens of animals remain buried beneath the debris.

Among the casualties is seven-year-old Suleiman Aytnasr, who tragically lost his life just as he was about to begin a new school year. His mother had carried him to his bedroom after he fell asleep in the living room of their home in a hamlet outside Talat N'Yaaqoub, one of the areas most severely affected by the earthquake. As she exited the room, the earthquake struck, causing the ceiling to collapse on Suleiman.

Mouhamad Elhasan, aged 59, recounted how he and his family were having dinner when the earthquake hit. His 31-year-old son rushed outside but was struck by their neighbor's collapsing roof, which trapped him under the rubble. By the time Elhasan reached his son, it was too late.

Elhasan believes that if his son had stayed inside the house, he would have been safe with his wife and daughter, who managed to survive.

In the village of Tagadirte, where only a few buildings remain standing, 66-year-old Mohamed Ouchen shared his experience of rescuing 25 people from the rubble immediately after the earthquake. Among those saved was his own sister.

"We were busy rescuing because we didn't have tools. Her head was visible and we kept digging by hand," Ouchen explained.

Footage captured by Spanish rescuer Antonio Nogales from the aid group Bomberos Unidos Sin Fronteras (United Firefighters Without Borders) showcased the level of destruction in the remote village of Imi N'Tala. The video depicted men and dogs navigating treacherous slopes covered in debris.

Nogales struggled to find the right words to describe the extent of the devastation, stating that "Not a single house has stayed upright."

Despite the overwhelming damage, search-and-rescue teams remain hopeful that survivors can still be found. They continue to search with the assistance of trained dogs, believing that pockets of air may have formed within the collapsed structures.

Following initial criticism regarding the slow response to the disaster, tent camps have started to appear in some locations as of Monday night. The army has been reinforcing search-and-rescue teams, providing essential supplies such as drinking water, food, blankets, and tents.

On Monday evening, a major road connecting the High Atlas Mountains to Marrakech experienced heavy traffic as vehicles carrying relief supplies and volunteers made their way to the hardest-hit communities. Moroccan volunteers and civilians, along with assistance from foreigners, worked together to direct traffic and clear the road of debris.

Morocco has currently accepted aid offers from Spain and Britain, both of which have sent search-and-rescue specialists accompanied by sniffer dogs. Additionally, offers from the United Arab Emirates and Qatar have been accepted. The interior ministry emphasized the importance of coordination and stated that only four foreign teams have been accepted thus far.

Other offers of assistance may be accepted in the future depending on evolving needs, according to the ministry.

Algeria has allocated three planes to transport rescue personnel and aid, while France has expressed its readiness to help pending a formal request from Morocco, as announced by French President Emmanuel Macron at the G20 Summit in New Delhi.

Dr. Hossam Elsharkawi, the Red Cross Middle East and North Africa regional director, predicts that it will take years to repair the damage caused by the earthquake. A response effort spanning months, if not years, will be necessary to address the extensive destruction.

For more stories about the Morocco earthquake, visit Disaster.news.

To learn about the peculiar aspects of the Morocco earthquake, watch this video.

This video is from THEHEALTHYAMERICAN, Peggy Hall channel on Brighteon.com.

Following a massive 7.8 magnitude earthquake in Turkey and Syria, the death toll is estimated to reach 20,000.

VIDEO: A massive quake strikes Turkey and Syria without warning, resulting in thousands of casualties.
Share With Others