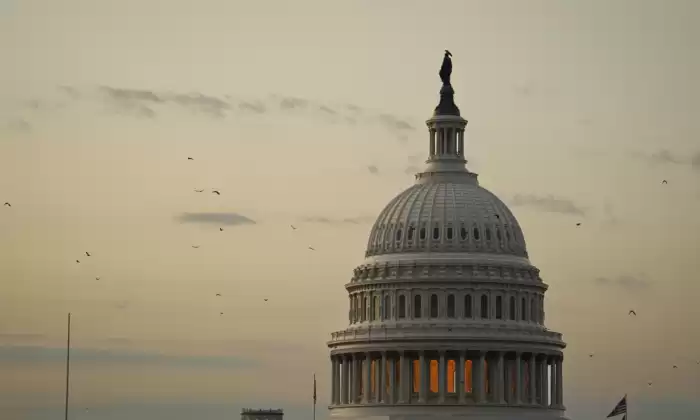 Senate Takes Up First Spending Bills in Race to Avoid Shutdown
A package of three appropriations bills cleared a procedural hurdle in the Senate on Tuesday as the possibility of a government shutdown loomed on the horizon.
A package of three appropriations bills successfully passed a procedural hurdle in the Senate on Tuesday, bringing the possibility of a government shutdown closer to reality. The bills in question cover military construction and the Department of Veterans Affairs, agriculture and the U.S. Food and Drug Administration, and transportation and Housing and Urban Development. The Senate is expected to vote on the package on Wednesday.

Senators Bob Menendez and Chris Van Hollen, both Democrats, expressed their satisfaction with the progress of the appropriations process. Menendez called it "a good step forward" towards passing the bills and a continuing resolution to extend government funding while budget negotiations continue. Van Hollen emphasized the importance of bipartisanship in funding the federal government and criticized House Speaker Kevin McCarthy for being influenced by the far-right wing.

Earlier this year, Republicans and Democrats agreed to suspend the nation's spending cap, but another showdown could occur as Republicans seek spending cuts on top of that deal. Senate Majority Leader Chuck Schumer praised the Senate Appropriations Committee for advancing all 12 required appropriations bills to the full Senate, calling it "a lesson in how governing should work." He urged House Republicans to work with Democrats to avoid a government shutdown, emphasizing that it would harm the American people.

Leaders in both chambers have expressed support for passing a short-term continuing resolution to temporarily extend government funding. However, the conservative House Freedom Caucus has vowed to oppose such a resolution without certain concessions from Democrats. They are demanding the inclusion of the Secure the Border Act, provisions addressing the "weaponization" of the FBI and Justice Department, and an end to "woke policies" in the Pentagon. Freedom Caucus Chair Scott Perry stated that his caucus would not vote for a resolution that continues the policies and spending of the current administration.

Accusations of brinkmanship were dismissed by the Freedom Caucus members, who argued that they were advocating for the American people and criticizing the Biden administration's actions. They called for accountability, including investigations into the Biden family and an impeachment inquiry into President Joe Biden. Rep. Matt Gaetz warned House Speaker Kevin McCarthy that he was "out of compliance" with the agreement that secured him the position and demanded actions such as votes on balanced budgets and term limits, subpoenas for Hunter Biden, and impeachment for Joe Biden.

The Epoch Times has reached out to McCarthy's office for comment.
Share With Others