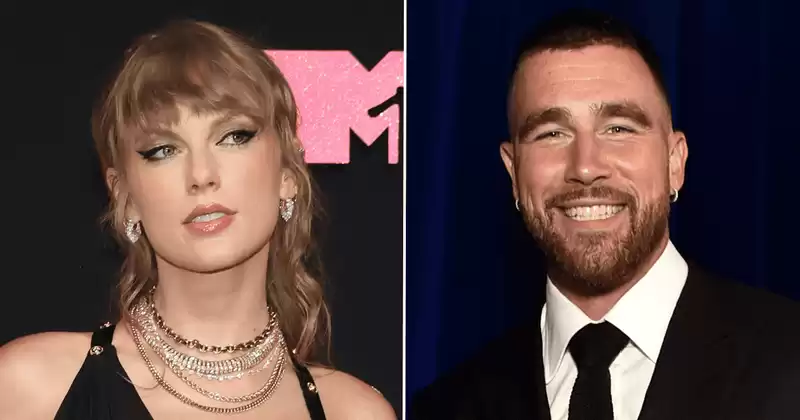 Taylor Swift Hangs Out with NFL Star Travis Kelce Post Era Tour, Igniting Romance Speculations
Taylor Swift fans were shocked by her breakup with Joe Alwyn, but rumors suggest she may be spending time with NFL star Travis Kelce.
Taylor Swift fans were left stunned and heartbroken after her breakup with long-time boyfriend Joe Alwyn. The former couple had been together for six years and even collaborated on several songs, with Alwyn inspiring albums like "Lover." While fans were disappointed by the split, there are now rumors that Swift may be moving on with someone new. The Messenger was the first to report that Swift has been spending time with NFL star Travis Kelce.

According to reports, Swift and Kelce have been "seeing each other" for a few weeks now. Kelce apparently tried to give Swift his number during her Eras Tour, but her strict policy of not meeting anyone before or after shows prevented him from doing so. Despite this, it seems that Swift took note of the gesture and may be interested in pursuing something with Kelce.

An insider revealed that Swift and Kelce have been quietly hanging out, and Swift even saw him when she was in NYC recently. Neither Swift nor Kelce have addressed the rumors of a romance, leaving fans to speculate about whether they are more than just friends.

During a podcast interview with his brother Jason Kelce, Travis was asked about his activities on his day off. He gave a subtle response, saying he couldn't remember and didn't think he did much. However, the host pressed him further, claiming that Travis had "disappeared" for the weekend. Eventually, Travis admitted that he had been in New York during that time.

The conversation shifted to other topics, but Jason couldn't help but bring up Travis' recent beard. He asked if Travis knew what Taylor Swift thought about it. Travis blushed and said they wouldn't be discussing Taylor Swift on that episode, but he had a feeling she would like it.

This comment comes after Travis revealed on another episode of the podcast that he had come up with a creative way to give Swift his contact information. He made a friendship bracelet with his phone number indicated by beads. Unfortunately, he wasn't able to give it to her, leaving him feeling disappointed.

Despite this setback, it seems that Swift and Kelce are still getting to know each other. Whether their relationship will develop into something more remains to be seen. Fans are eagerly awaiting any updates on their potential romance.

In other news, Kim Kardashian's short-lived marriage to Kris Humphries was a lavish spectacle that turned into a reality show.
Share With Others