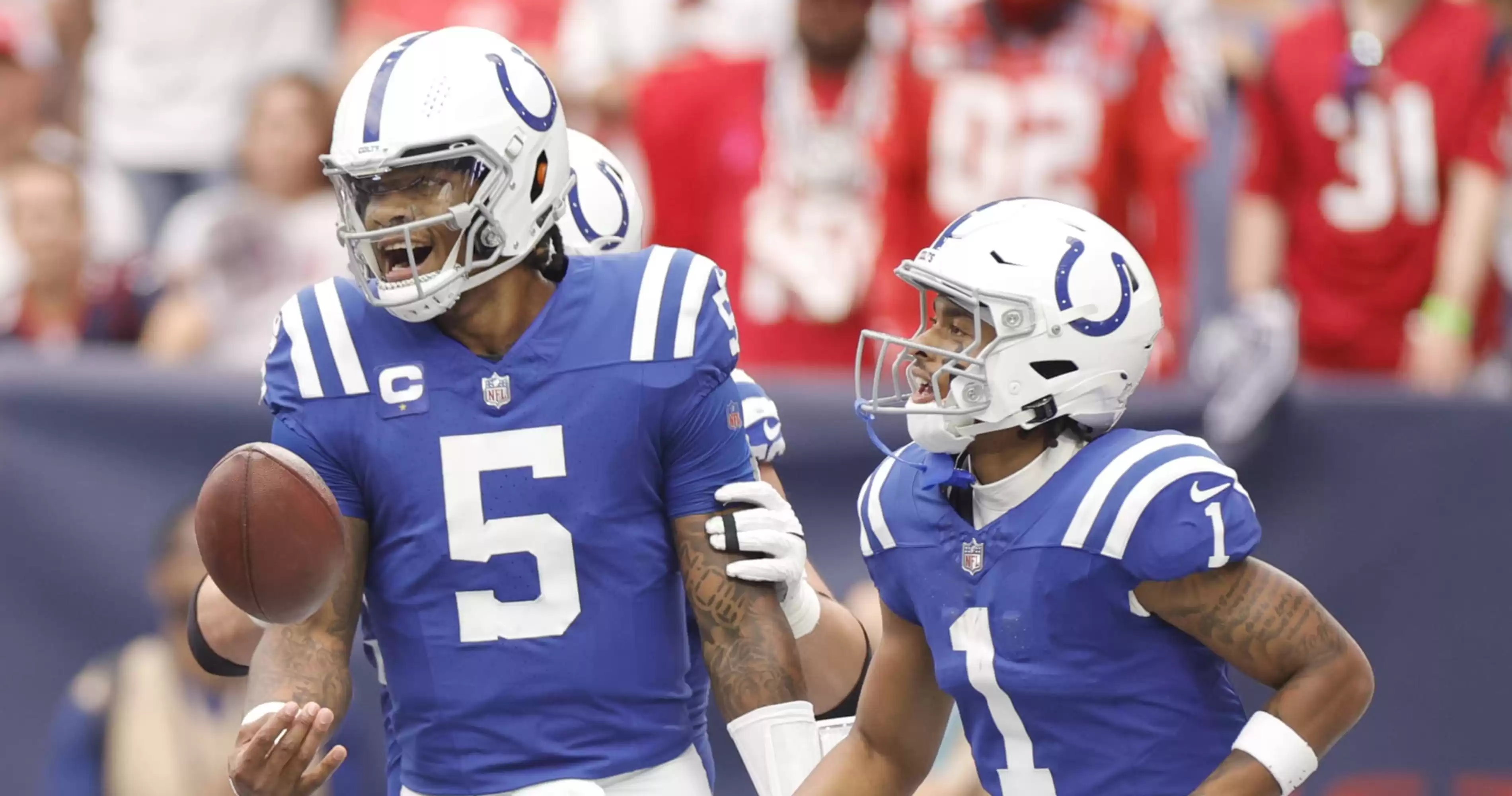 NFL Fans Hype Anthony Richardson over CJ Stroud in 1st Duel of Colts, Texans QBs
Injuries overshadowed the AFC South clash between the Colts and Texans, with the Colts emerging as winners. Anthony Richardson and C.J. Stroud were both affected by injuries. Richardson's limited involvement still excited fans for the future. Gardner Minshew provided a spark off the bench for the Colts. Stroud showed promise as an NFL starter, but the Texans may not have much progress beyond his development.
In a highly anticipated AFC South matchup, the Indianapolis Colts' Anthony Richardson and the Houston Texans' C.J. Stroud took the field, but unfortunately, injuries stole the spotlight. Stroud, who was initially listed as questionable due to a shoulder issue, managed to suit up and play. However, Richardson's promising start to Week 2 was cut short as he suffered a concussion and was ruled out in the first half.

Before his exit, the rookie Richardson showcased his potential, completing 6 of 10 passes for 56 yards and rushing for 35 yards and two touchdowns on three carries. Despite his limited involvement, his performance left fans eagerly anticipating what he can bring in the future.

However, it is not guaranteed that Richardson will immediately regain his starting position once he is cleared to play. Gardner Minshew, who came off the bench, provided a spark for the Colts, throwing for 171 yards and one touchdown. The phenomenon known as "Minshew Mania" may have quieted down for a while, but it has proven to resurface when least expected.

While Minshew may not be the flashiest option, he has shown himself to be a reliable passer. In comparison to some other teams' quarterbacks, he may even be considered a better solution. However, history suggests that Minshew's hot streak will eventually cool off.

On the other side of the field, Texans fans once again found themselves disappointed by the lack of support surrounding Stroud. The No. 2 overall pick demonstrated his potential as an NFL starter, completing 30 of 47 passes for 384 yards and two touchdowns. He even threw his first career touchdown pass in the first quarter.

However, the Texans as a team may not have much progress to show for the 2023 season beyond Stroud's development. Additionally, they won't even have the consolation of a high draft pick, as they traded their 2024 first-round pick to the Arizona Cardinals to move up and select Will Anderson Jr. in the recent draft.

Despite potentially missing out on the opportunity to acquire star quarterback Caleb Williams from USC, if Stroud continues to progress, the Texans may not view it as a major loss. Stroud's growth and potential could outweigh the benefits of having a top draft pick.

In conclusion, the AFC South clash between Richardson and Stroud was overshadowed by injuries, but it provided a glimpse into the future of both teams. Richardson's early exit left fans excited, while Minshew's performance off the bench added an unexpected twist. Stroud showed promise, but the state of the Texans' roster remains a concern. Ultimately, the outcome of this game may not have a significant impact on the long-term prospects of either team.
Share With Others