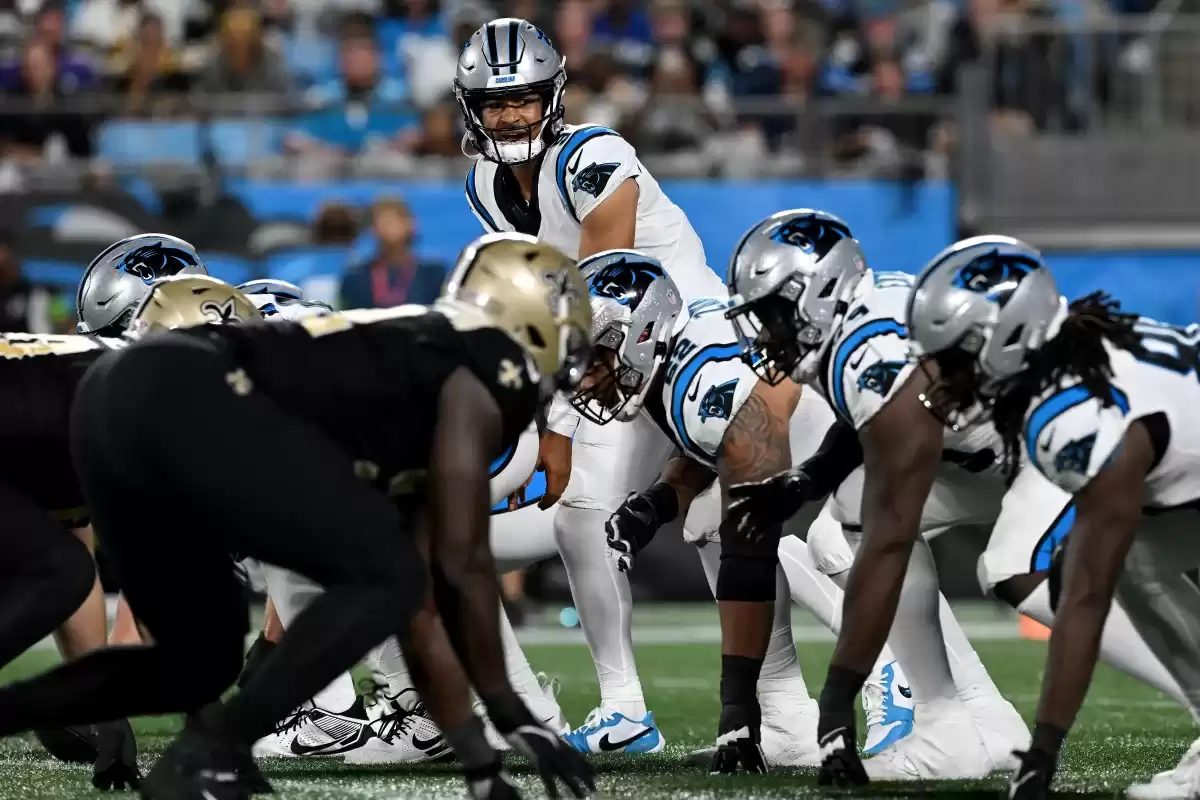 'MNF Week 2: Bryce Young and Panthers Struggle Early as Saints Dominate, Steelers Surge Past Browns'
Bryce Young struggles in home debut for Panthers, as Saints take a narrow lead at halftime. Steelers face tough challenge against Browns.
In his highly anticipated home debut, Bryce Young encountered a rocky start. The Carolina Panthers' quarterback struggled to find his rhythm in the first game of the Monday Night Football doubleheader, which concluded Week 2. Despite a promising interception by Von Bell, who picked off a poor pass from New Orleans Saints quarterback Derek Carr late in the first half, Young was unable to capitalize. He was sacked and fumbled, resulting in a turnover for New Orleans.

At halftime in Charlotte, the Saints held a slim 6-3 lead. Young, still displaying the signs of a rookie, had a mixed performance in Week 1, throwing one touchdown and two interceptions in a loss to the Atlanta Falcons. Carr, on the other hand, did enough to lead the Saints to victory in Week 1. The Panthers struggled on third down conversions, converting only one out of five attempts, and their offense managed a meager 88 total yards in the first half. Their sole points came from a 52-yard field goal by Eddy Pineiro on their first possession. Otherwise, they either punted or turned the ball over.

The Pittsburgh Steelers also faced challenges in Week 1. Despite a strong preseason showing, their starting offense faltered against the formidable San Francisco 49ers defense. Now, Kenny Pickett and the Steelers must prove that their preseason success was not a fluke. However, they face a tough task against the Cleveland Browns defense, which demonstrated their ability to disrupt Joe Burrow last week.

Stay tuned as Yahoo Sports provides updates on the latest news, scores, and injuries during the Monday Night Football doubleheader in Week 2.
Share With Others