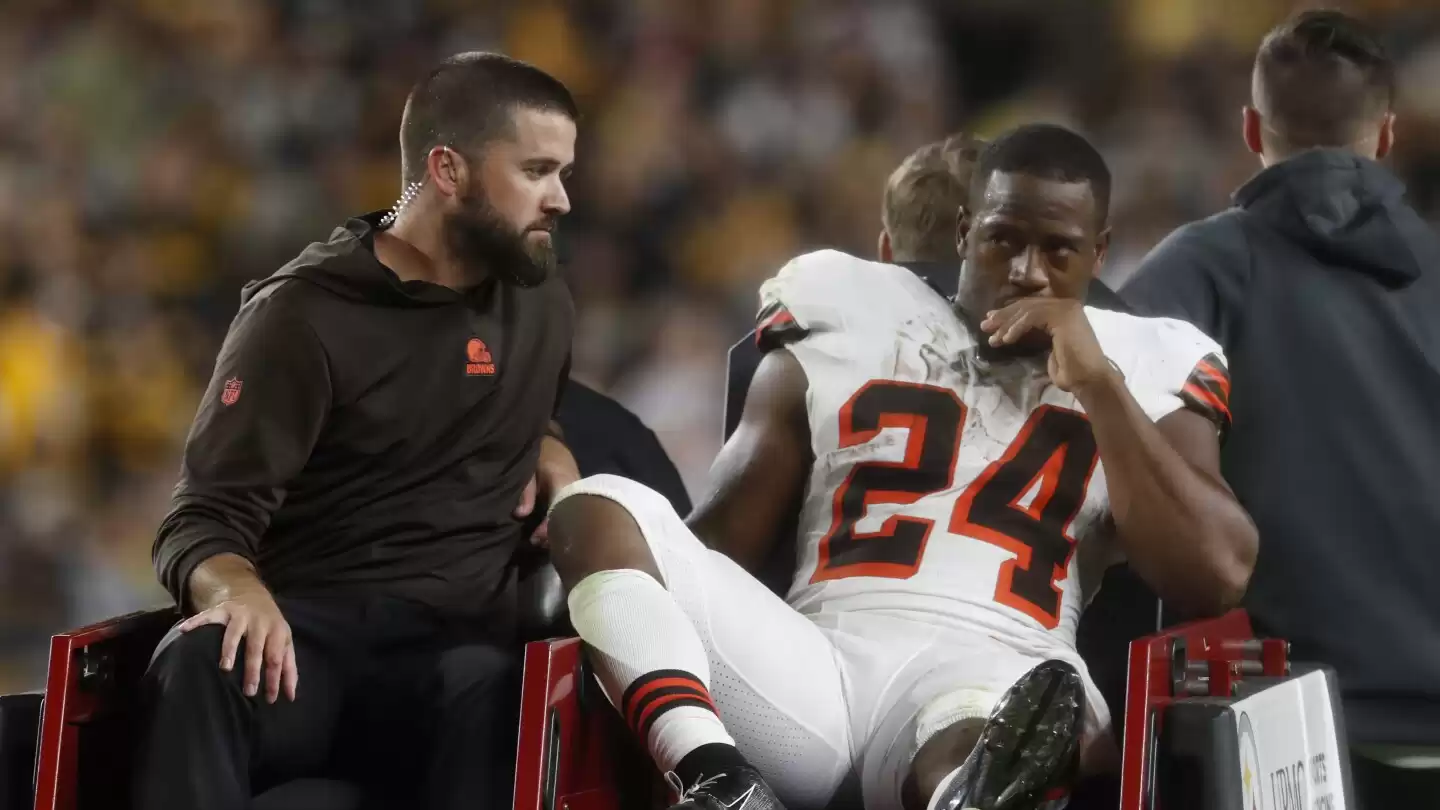 Monday Night Football: Browns lose Nick Chubb, trail Steelers 16-14 at halftime
Nick Chubb suffers gruesome knee injury in Browns vs. Steelers game, impacting the score and gameplay.
The football game at Acrisure Stadium got off to a rough start in the first half. Not only was the quality of play lacking, but there was also a devastating injury to Browns running back Nick Chubb.

Chubb's injury occurred with just over 14 minutes left in the first half. He collided with Steelers safety Minkah Fitzpatrick, resulting in a gruesome left knee injury. What makes this injury even more heartbreaking is that it is the same knee that Chubb had reconstructive surgery on back in 2015 when he tore his MCL, PCL, and LCL while playing for Georgia against the University of Tennessee.

In addition to the injury, the game has been plagued by turnovers, penalties, punts, and even a missed field goal. Both teams have struggled to find their rhythm and maintain possession of the ball.

The Steelers managed to score the first points of the game on a 30-yard interception return by linebacker Alex Highsmith. The interception came off a pass from Deshaun Watson intended for Harrison Bryant. It was a quick and impactful play that set the tone for the Steelers' early lead.

However, the Browns didn't let the interception dampen their spirits. After Chubb left the game due to his injury, his replacement, Jerome Ford, stepped up and made an immediate impact. Ford caught a 3-yard pass from Watson and then ran in the 2-point conversion, giving the Browns an 11-7 lead.

The Steelers' offense struggled for most of the first half, but they finally found some success when Kenny Pickett connected with George Pickens for a 71-yard touchdown pass. This big play put the Steelers back in the lead with a score of 16-11.

Just before the end of the second quarter, Browns kicker Dustin Hopkins redeemed himself after missing an earlier field goal. He made a 55-yard kick, narrowing the Steelers' lead to just two points.

As for the quarterbacks, Pickett has completed 10 of 19 passes for 151 yards, including the touchdown pass to Pickens. However, he has also thrown an interception. On the other side, Watson has completed 10 of 21 passes for 102 yards, with one touchdown and the costly interception returned for a touchdown.

Overall, the first half of the game has been filled with both excitement and disappointment. The injury to Chubb has undoubtedly had a significant impact on the Browns, while the Steelers have managed to capitalize on some key plays. It will be interesting to see how both teams adjust and perform in the second half.
Share With Others