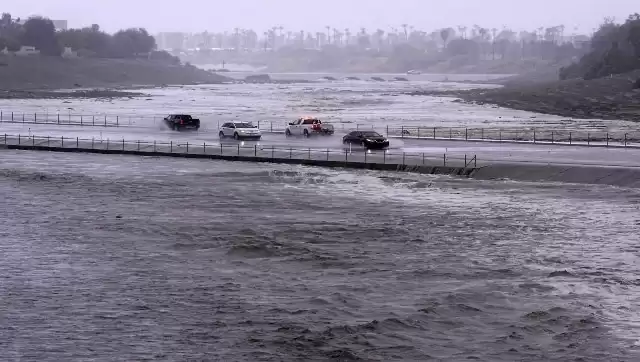 Tropical Storm Hilary Threatens California; 5.1 Magnitude Earthquake Strikes Ojai, Southern California
Tropical Storm Hilary brings heavy rains and warnings of life-threatening flooding to California, prompting evacuations and states of emergency.
California experienced heavy rains on Sunday as Tropical Storm Hilary made its way in from Mexico, posing a threat of life-threatening flooding in the typically dry southwestern United States. The storm, which was very rare for southern California, brought maximum sustained winds of 60 miles per hour and was moving at a brisk pace of 23 mph. The US National Hurricane Center warned of catastrophic and life-threatening flooding in Baja California and parts of the southwestern US. Los Angeles Mayor Karen Bass described the weather event as unprecedented. Beaches were closed, stores were rushed to stock up on essentials, and flash flood and tornado warnings were issued. Despite being downgraded to a tropical storm, FEMA administrator Deanne Criswell urged people to take the dangers seriously. California Governor Gavin Newsom declared a state of emergency for the southern area of the state and opened five storm shelters. The storm caused one death in Mexico and was expected to bring up to 10 inches of rain to parts of California and Nevada, leading to dangerous and catastrophic flooding. Tornadoes were also possible in certain areas. The Mexican government deployed soldiers and the federal electric utility sent workers and vehicles to respond to any outages. Climate change has been cited as a factor in the increasing intensity of storms.
Share With Others