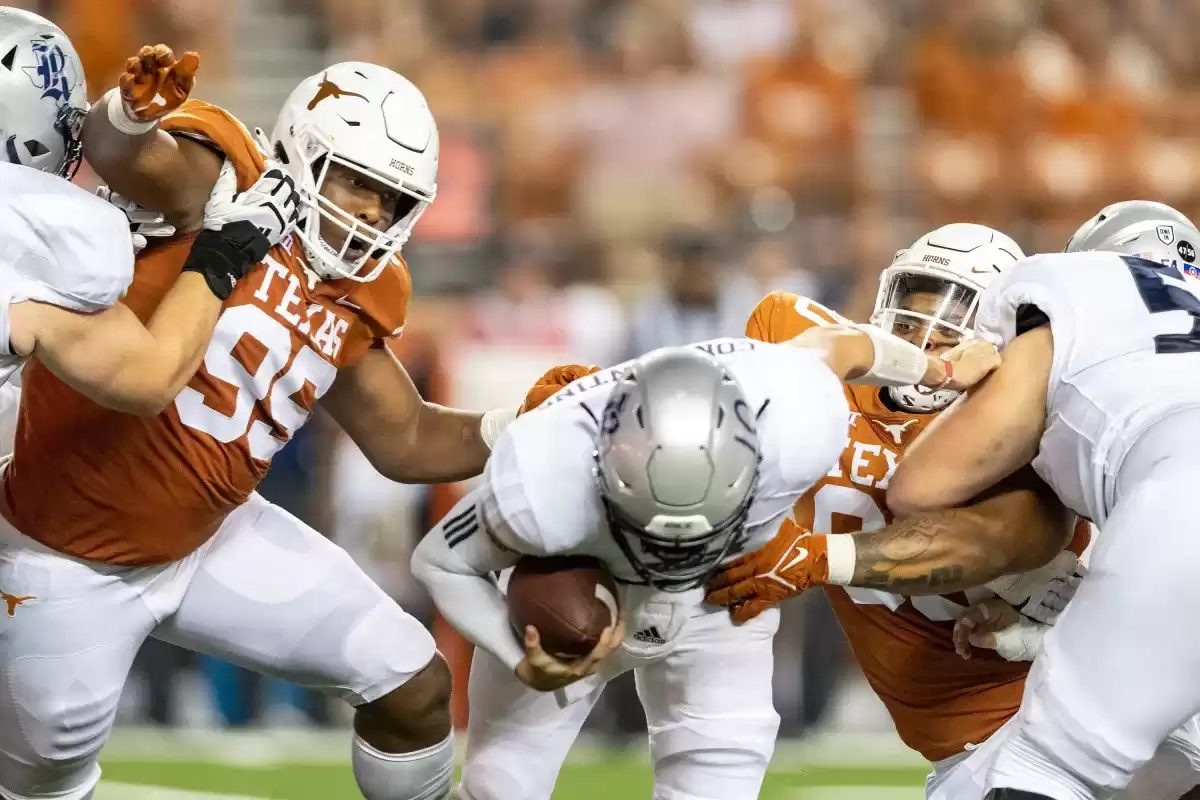 Texas football game preview: Longhorns seeking strong start against Rice
The Texas Longhorns kick off their 2023 season against Rice with a 74-21-1 all-time series lead.
The highly anticipated 2023 season for the Texas Longhorns kicks off this Saturday with a nonconference game against Rice. The Longhorns have a dominant lead in the all-time series between the two teams, with a record of 74-21-1. Their most memorable meeting took place in 1994 when Rice snapped their 28-game losing streak to Texas with a 19-17 victory. This win helped Rice claim a share of the Southwest Conference title for the first time since 1957. It also answered President John F. Kennedy's question about why the small, private school in Houston continues to play Texas.

Last year, Rice had a record of 5-8 and reached the Lending Tree Bowl, where they lost to Southern Miss. They have some standout players to watch, including quarterback J.T. Daniels, who brings a wealth of experience from his time at USC, Georgia, and West Virginia. Edge rusher Josh Pearcy has been a force on defense with 17.5 tackles for a loss and 10.5 sacks over the past two seasons. Wide receiver Luke McCaffery, the younger brother of NFL star Christian McCaffery, led the team in all-purpose yards last season.

There are also several players with connections to Central Texas on the Rice roster. John Long, who played for Lampasas High School, is a key player on the offensive line. Sean Fresch, a standout from LBJ High School, starts at cornerback and also returns punts and kicks. There are also true freshmen from Georgetown, Weiss, and Hays who may not see much playing time this season.

The Longhorns are coming off a season where they had to replace NFL-caliber running backs Bijan Robinson and Roschon Johnson. However, Rice struggled to stop the run last season, giving up a record 329 rushing yards in their last game against Southern Miss. This should give Texas running backs Jonathon Brooks and CJ Baxter plenty of opportunities to shine. Rice does have an active presence on the defensive line with 305-pound nose guard Izeya Floyd, but Texas' offensive line, led by center Jake Majors and guards Hayden Connor, DJ Campbell, and Cole Hutson, has a size advantage.

On the defensive side, Rice's veteran secondary led by Sean Fresch, Jordan Dunbar, and Gabriel Taylor could pose a challenge for Texas quarterback Quinn Ewers and the deep group of receivers. Rice's defense ranked fifth in Conference USA in 2022, so Ewers may have to work hard to find open targets. However, Rice's quarterback J.T. Daniels, who threw for 253 yards against Texas last year while playing for West Virginia, could test the Longhorns' secondary. Wide receiver Bradley Rozner, who stands at 6-foot-5, will also be a physical threat for the Texas cornerbacks.

Overall, the Longhorns are expected to have a strong start to the season against Rice. The game may feature a heavy emphasis on Texas' rushing attack, but wide receiver Xavier Worthy could still have some opportunities to make big plays against Rice cornerback Sean Fresch. The Austin American-Statesman predicts a convincing victory for Texas, with score predictions ranging from 48-7 to 52-10.
Share With Others