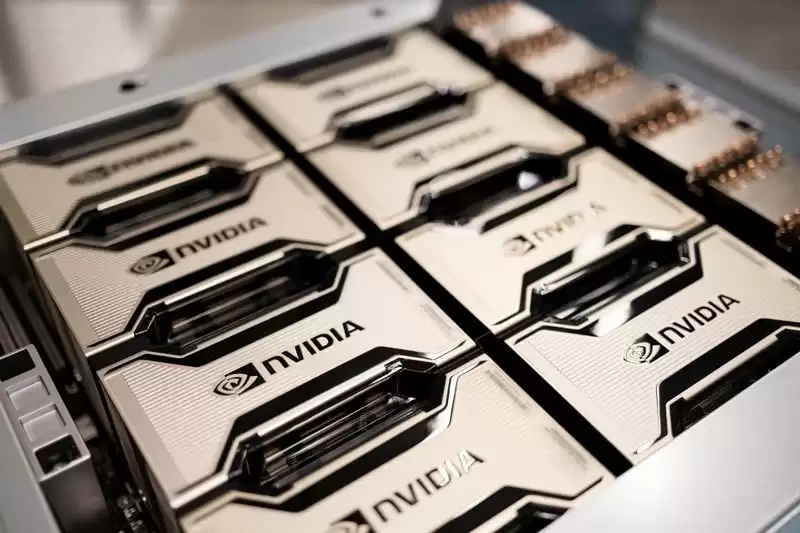 Nvidia Stock Surges Over $500 as Chipmaker Crushes Q2 Estimates on AI-Fueled Data Center Revenue
Nvidia's Q2 earnings exceeded expectations, with revenue at a record $13.51bn, 101% YoY growth, and a 429% YoY increase in earnings per share.
Nvidia Corp. (NASDAQ:NVDA) has exceeded expectations with its second-quarter earnings, driven by its strong position in the artificial intelligence (AI) technology sector. The company's Data Center revenue reached a record high, accounting for around two-thirds of its total revenue. Nvidia also provided third-quarter revenue guidance of $16 billion, more than $3 billion above what analysts had predicted.

Following the release of its earnings report, Nvidia's stock rose 3.17% to $471.16 in regular trading and then increased by 8.04% to $509.06 in after-hours trading.

In Q2, Nvidia's non-GAAP earnings per share rose by 429% year-over-year, from 51 cents to $2.70. Sequentially, the measure improved by 148% from the previous quarter's $1.09 per share. Analysts had expected earnings per share of $1.91.

The company's revenue also saw significant growth, climbing 101% year-over-year and 88% sequentially to a record $13.51 billion. This exceeded the consensus estimate of $10.3 billion and Nvidia's own guidance of $11 billion, plus or minus 2%.

Nvidia's non-GAAP gross margin for the quarter was 71.2%, higher than the previous year's 45.9% and the previous quarter's 66.8%.

Analyst John Vinh of KeyBanc Capital Markets had predicted second-quarter revenue of $12.7 billion and earnings per share of $2.49.

Nvidia CEO Jensen Huang stated that a new computing era has begun, with companies worldwide transitioning to accelerated computing and generative AI. He highlighted that major cloud service providers have rolled out Nvidia H100 AI infrastructures, and enterprise IT and software providers have announced partnerships to bring Nvidia AI to every industry.

Nvidia's Data Center segment, which generates over half of the company's total revenue, reported record revenue of $10.32 billion. The accelerated computing platform, fueled by generative AI, contributed to this growth.

CFO Colette Kress attributed the record Data Center revenue to strong demand from cloud service providers and large consumer internet companies. The development of large language models and generative AI has increased demand for Nvidia's HGX platform, which is based on Hopper and Ampere GPU architectures.

The company's automotive segment also experienced strong revenue growth, driven by high demand for high-performance chips used in autonomous driving solutions. Additionally, revenue from the gaming business continued to recover, and the professional visualization business showed an upward trajectory.

Nvidia returned $3.38 billion to shareholders in the second quarter through share repurchases and cash dividends. The company also announced a dividend of 4 cents per share payable on September 28.

Looking ahead to the third quarter, Nvidia expects revenue of $16 billion, plus or minus 2%, while analysts predict revenue of $11.57 billion. The company also anticipates a non-GAAP gross margin of 72.5%, plus or minus 50 basis points.

Nvidia's stock has performed exceptionally well this year, gaining 219% to date. Despite its high valuation, analysts remain positive about the stock's prospects, with an average price target of $535.67, suggesting a potential 15% upside.

Overall, Nvidia's strong second-quarter performance, driven by its position in AI technology, has positioned the company for continued growth in the future.
Share With Others