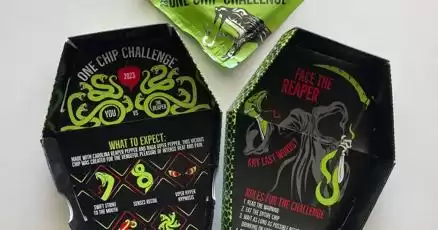 Vigil for Teen Who Died After One Chip Challenge in Massachusetts
A teenager died after eating an extremely spicy tortilla chip as part of a social media challenge.
A vigil will be held in Worcester, Massachusetts, to remember 14-year-old Harris Wolobah, who tragically died after participating in the One Chip Challenge. The challenge involves eating an extremely spicy tortilla chip and seeing how long one can go without consuming any other food or water. The cause of Wolobah's death is still pending autopsy results, but his family believes that the challenge is to blame.

Following the incident, Paqui, the Texas-based manufacturer of the chip, has requested that retailers stop selling the product. 7-Eleven has already complied with this request. The One Chip Challenge chip is sold for around $10 and comes in a sealed foil pouch inside a coffin-shaped cardboard box. The packaging clearly warns that the chip is intended for adults and should be kept out of reach of children. It also states that the chip is made for the "vengeful pleasure of intense heat and pain."

In response to the teenager's death, Paqui, a subsidiary of The Hershey Company, expressed deep sadness and acknowledged that there has been an increase in people, including teenagers, disregarding the warning labels on the packaging. As a result, they are working with retailers to remove the product from shelves as a precautionary measure, even though the chip adheres to food safety standards.

Massachusetts authorities have also issued a warning to parents about the challenge, which has gained popularity on social media platforms like TikTok. Worcester County District Attorney Joseph Early urged parents to discuss the risks of the challenge with their children and advised against participating in it. He emphasized that the chip is meant for adult consumption and that other states have seen hospitalizations due to the challenge, including cases involving teenagers.

Instances of children getting sick after taking part in the challenge have been reported across the country. A 10-year-old girl in Florida was suspended from school for bringing the Paqui chip, and six children at Forest Park Elementary School required medical attention after coming into contact with the chip. Similar incidents have occurred in California and Minnesota, resulting in hospitalizations.

Medical professionals have also weighed in on the potential dangers of the challenge. Dr. Lauren Rice, the chief of pediatric emergency medicine at Tufts Medical Center, explained that the chip contains strong chemicals like capsaicin, which can cause mild symptoms like burning or tingling of the lips, as well as more severe symptoms such as abdominal pain, nausea, and vomiting. Dr. Peter Chai, an associate professor of emergency medicine and medical toxicology at Brigham and Women's Hospital, warned that eating chips with a high concentration of capsaicin could potentially lead to fatal dysrhythmia or irreversible heart injury.

The Worcester Police Department responded to Wolobah's family's accusations by stating that they found the teenager unresponsive and not breathing when they arrived at his house. He was transported to a hospital but was pronounced dead shortly after. The family and friends of Wolobah firmly believe that the chips caused his death and have called for a ban on the product.

The tragic incident has sparked a larger conversation about the potential dangers of social media challenges and the need for increased awareness among parents, coaches, and teachers. Douglas Hill, who runs the basketball league that Wolobah played in, emphasized the importance of educating children about the risks associated with participating in activities that could harm them. He organized a basketball event to honor Wolobah and raise awareness about the issue.

The One Chip Challenge's appeal lies in its name and the rules outlined on the packaging. Participants are encouraged to eat the entire chip, wait as long as possible before consuming anything else, and share their reactions on social media. The package also includes a scale from one minute to one hour, allowing individuals to rate how long they can endure the chip's intense heat. However, the packaging clearly warns against eating the chip if one is sensitive to spicy foods, allergic to peppers or capsaicin, pregnant, or has any medical conditions. It also advises individuals to wash their hands after touching the chip and seek medical assistance if they experience difficulty breathing, fainting, or extended nausea.
Share With Others