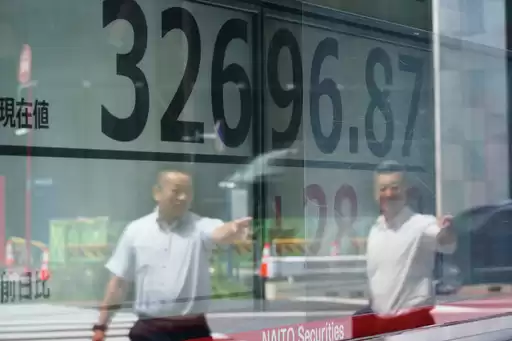 "Breaking: Global Stocks Surge as Federal Reserve Boosts Interest Rates – Discover the Impact on Your Investments!"
ECB expected to raise rates as Fed raises interest rates.
Shares in Europe and Asia saw mostly positive movement on Thursday following the Federal Reserve's decision to raise interest rates to their highest level in over two decades, a move that had been widely anticipated on Wall Street. Market focus then shifted to the European Central Bank's decision, expected later in the day, and the possibility of Japan's central bank altering its ultra-lax monetary policy at a meeting concluding on Friday. ECB President Christine Lagarde indicated that an increase was likely, with the bank's governing council meeting in Frankfurt to decide on interest rates for the 20 EU countries that use the euro. ING Economics commented that a 25 basis point hike was widely expected, with the possibility of another increase in September. Germany's DAX rose 1%, while the CAC 40 in Paris advanced 1.5% and Britain's FTSE 100 gained 0.3%. The S&P 500 and Dow Jones Industrial Average futures were up 0.5% and 0.1% respectively. In Asia, Tokyo's Nikkei 225 index increased by 0.7%, while Hong Kong's Hang Seng index rose 1.4%. The Bank of Japan has maintained its benchmark interest rate at minus 0.1% for ten years, but inflation has started to increase, reaching 3.3% in June. However, the central bank remains cautious due to concerns about slowing demand for Japanese exports. The Shanghai Composite index slipped 0.2% and India's Sensex fell 0.7%.
Share With Others