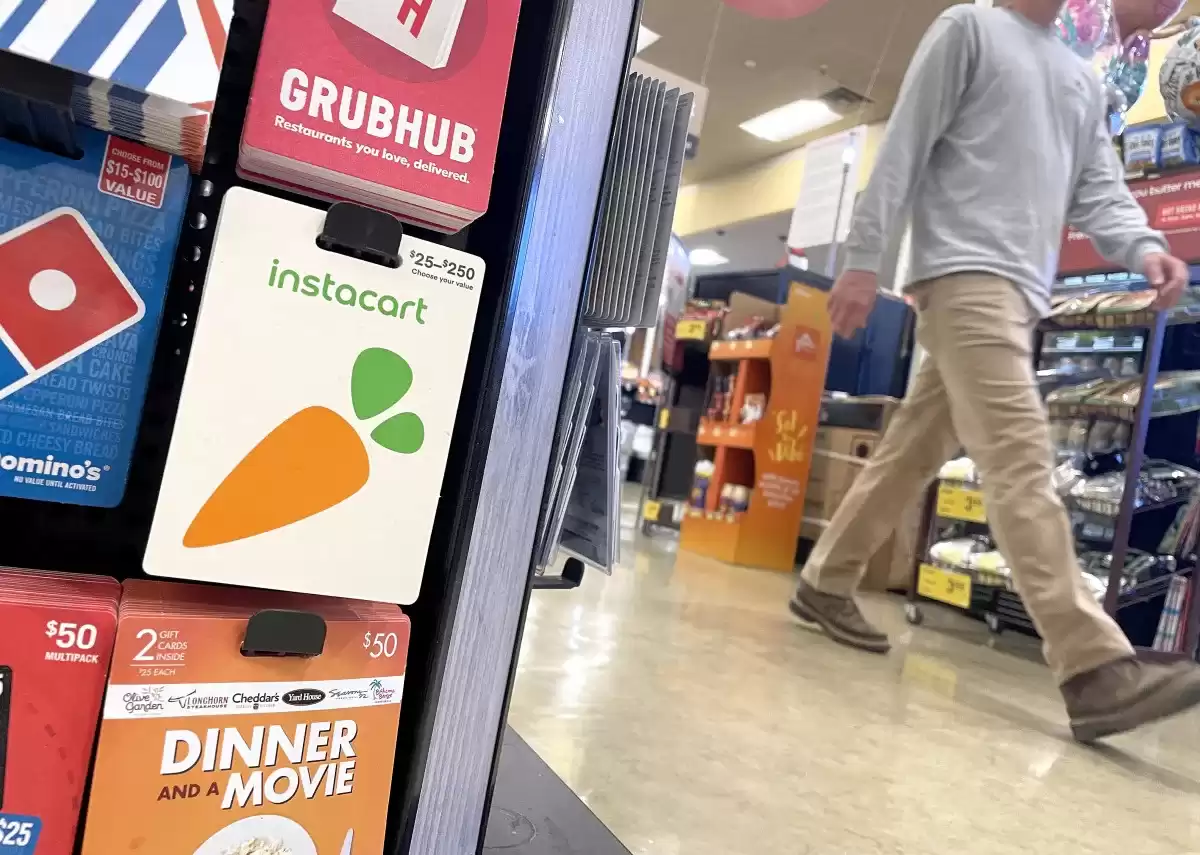 Instacart IPO: Challenges for grocery delivery chain in public debut
Instacart's stock opened at $42 a share, 40% higher than anticipated, with a market valuation of roughly $13.9 billion.
Instacart, the grocery delivery company, made its highly anticipated debut on the Nasdaq stock exchange under the ticker symbol "CART" on Tuesday. The stock opened at $42 per share, a significant 40% higher than the expected price of $30 per share. This strong start resulted in a market valuation of approximately $13.9 billion for the company.

By the end of the trading session on Tuesday, Instacart's stock had risen 12% to close at $33.70 per share. While the initial market response has been positive, it remains to be seen if the company can maintain this momentum in the face of significant challenges ahead.

Analysts attribute Instacart's successful market debut to investors' willingness to pay for growth, particularly in the tech-enabled sector, as well as the company's dominant position in the food delivery market. However, they caution that sustaining margin expansion and revenue growth will be key challenges for Instacart, especially given the current inflationary environment and increased competition from other food delivery providers, Walmart, Amazon, and traditional grocers.

Instacart's IPO has been long-awaited, as it is the first venture-backed tech IPO since 2021. The company's market valuation of $10 billion on a fully diluted basis is nearly 70% lower than its private valuation of $39 billion during the peak of the pandemic in 2021.

The IPO market is gradually gaining momentum, with recent successful debuts from companies like British chipmaker Arm and enterprise software company Klaviyo. However, this renewed interest in IPOs can also lead to increased price volatility for companies attracting significant attention.

One of the challenges Instacart faces is the impact of rising grocery prices, which have affected its partners like Kroger and Costco. The cost of food at home rose by 3% in August compared to the previous year, according to the Bureau of Labor Statistics. However, experts believe that the trade line and inflation may be less challenging for Instacart in the coming months, which could positively impact the company's performance.

Instacart expects higher order levels in the second half of the year, driven by the back-to-school period and holiday season. However, the company may face difficulties if more consumers choose to leave the platform. Instacart has previously raised fees to boost profits, but this has resulted in a reduction in the number of users. Finding the right balance between user growth and profitability will be crucial for the company's success.

There are also concerns about competition from major grocery players like Kroger, who are creating their own delivery services and potentially taking market share from Instacart. Walmart, for example, now offers free grocery delivery and has introduced a discounted membership for consumers on government assistance.

Instacart is also being compared to competitors like DoorDash and UberEats. While DoorDash's stock has declined since its IPO in 2020, it still has a market cap of over $30 billion, and UberEats is valued at more than $95 billion. Instacart's gross transaction value has also seen a decline, growing by 303% from 2019 to 2020 but only 3% in the first quarter of this year.

Despite these challenges, analysts believe that Instacart has already met a high bar by successfully going public. The new wave of IPOs is expected to feature more established and well-known companies, indicating a higher level of preparedness and quality.

In conclusion, Instacart's IPO has generated significant market interest and a strong initial response. However, the company will face challenges in sustaining growth, managing competition, and navigating the current inflationary environment. Investors will closely watch how Instacart performs in the coming months as it seeks to establish itself as a leader in the food delivery market.
Share With Others